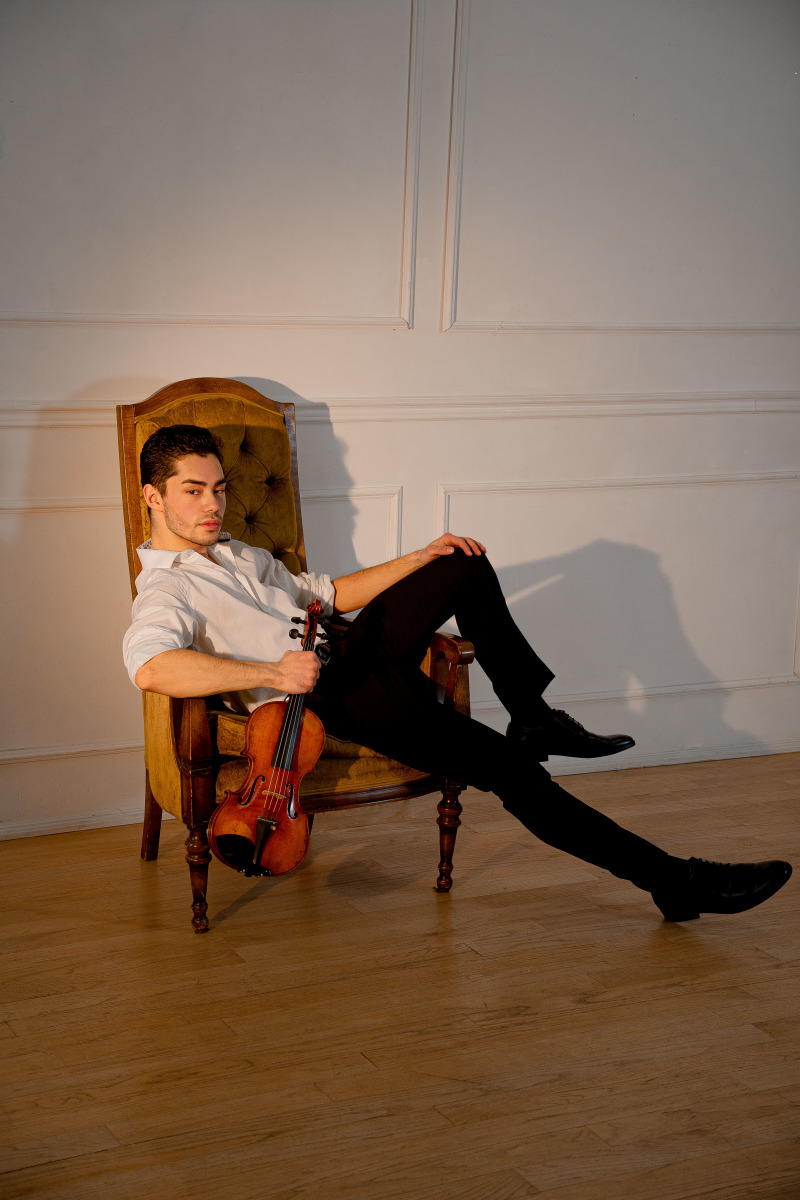 Royce Rich
Musician
---
Royce Rich is establishing himself as one of Canada's up-and-coming concert instrumentalists.
In July 2021, he was listed as one of CBC Music's "Top 30 Under 30 Hot Musicians" for the release of his self-produced debut studio album of show pieces entitled Short Stories - available on all streaming platforms. In July 2015, Royce was awarded the coveted Gabora Prize in Italy at the Casalmaggiore International Festival, and has since appeared on concert stages as a solo artist and chamber musician across Canada, the USA, Italy, and Germany. He has performed as guest artist with the Brampton Symphony Orchestra, Lions Gate Sinfonia Orchestra, Durham Chamber Orchestra, Smazal Chamber Orchestra, and twice with the Vancouver Youth Symphony Orchestra.
Throughout the summer of 2023, Royce was co-concertmaster of the National Academy Orchestra - Canada's top training orchestra for up-coming professional orchestral musicians. He has performed solo recitals and chamber music recitals for such concerts series across British Columbia and Ontario, namely the for West Vancouver Arts Council, Arts at One hosted by Douglas College, Music Friends, The Jewish Community Centre of Greater Vancouver, Chabad Richmond, Vancouver Chinese Garden, Newmann Productions, Concerts @ 100, St. Andrew's Noon Hour, KnoxVan Events and Clearly Musical Home Concerts. As an avid performer for outreach events, Royce has presented concerts and talks at over a dozen retirement residents, West Vancouver Memorial Library, Vancouver Playback Theatre, the North Vancouver Vancouver Civic Plaza. Aside from performing live onstage and recording, Royce has cultivated a following on the internet via his online community on the social media app Instagram (@roycerichmusical). As of February of 2023, he has produced weekly music-related content for his curated series called "Tuesday Tunes", featuring his own crossover music of Vaporwave-R&B music. As a private violin instructor of classical music across Vancouver and Toronto, Royce's violin students have garnered top marks in performance exams through the methodologies of The Royal Conservatory of Music. Royce completed his formal post-secondary classical music training at The Glenn Gould School of The Royal Conservatory of Music in Toronto, where he obtained his Bachelors of Music Degree, as well as completed one full year in the conservatory's Artist Diploma Program as a full-scholarship recipient of The Jack Whiteside Scholarship. Royce started taking violin lessons and performing at the age of five years old – he has studied with some of North America's leading violin pedagogues, namely, with Victor Danchenko, Martina Smazal, Taras Gabora, and Mayumi Seiler.
Aside from performing, recording and teaching music across Vancouver and Toronto, Royce loves swimming, cycling, running, hiking, listening to Retrowave and Dreamwave music, and getting together with friends over coffee.