We are deeply committed to representing equity, diversity and inclusion, both on and off our stages at Soulpepper. This includes elevating female artists, a long underrepresented group in positions of leadership in our industry. In 2020 we launched a new commissioning project that engaged a diverse assembly of extraordinary women to write brand new plays. In 2021 we launched the first ever Her Words festival of new works by female playwrights.

In our 2023 season we continue to support these playwrights, as well as new and emerging voices, through the Women Centre Stage program. I invite you to join us in making necessary change happen by becoming a member of Women Centre Stage today.

—Weyni Mengesha, Artistic Director
Soulpepper is guided by a mission of Radical Inclusion, where all voices are heard, valued and elevated. Women now occupy over 50% of the seats on our Board of Direcotrs, on our stages and in rehearsal halls, on our administrative team.
For over 10 years, Soulpepper's Women Centre Stage program (formerly Top Women) has brought together like-minded allies with a common goal of supporting and celebrating women in creative roles at Soulpepper.
THE PROBLEM: INDUSTRY REPRESENTATION
Statistics show there is still important work to be done across the sector. Women form the majority of theatre school graduates, administrators, and audience members. However, when it comes to creative leadership positions, their numbers diminish substantially.
Despite 50% of the Playwright's Guild of Canada members being women, only 31% of Canadian staged productions were written by women, and less than 0.5% by trans and non-binary artists in the 2018/2019 theatre season.


As of 2015, there existed a 70 / 30 male / female split in the positions of power held in Ontario theatres among Artistic Directors, Directors and Playwrights. These numbers have sinced improved, but there is much more to do.



In 2016, female artists made $0.82 on the dollar compared to their male colleagues.
WHAT WE'VE ACHIEVED
Together we've achieved:



Soulpepper's Board of Directors is 56% female.


100% of the directors for the plays produced by Soulpepper in our 2022 season are women.
In 2019, we redesigned the way we pay our artists – formerly based on experience, now equalized for all cast members to ensure greater equity.
WHAT WE'RE DOING NOW
Women Centre Stage is helping support the commissions and workshops of Canadian women writing brand new plays that will be brought to the stage in the coming years. In 2021, four of these commissions received a creation workshop with a public presentation as part of our first ever Her Words festival of new works by femaile playwrights. In our 2022 Season, one of these plays - Queen Goneril by Erin Shields - premiered on our stage and 100% of the plays produced by Soulpepper in our 2022 season were directed by women.
In Spring of 2022, Soulpepper announced the receipt of a major grant for $250,000 from The Hilary and Galen Weston Foundation to support both the Six Women Writing program and Her Words festival. This generous grant allows us to significantly expand the scope of both these exciting initiatives, solidifying new commissions, bringing on new creative teams, and undertaking an exciting 'Rising Stars' mentorship program for emerging artists and creators. Audiences will be able to engage with these new works in fall of this year at our next Her Words Festival, which promises to be an even more exciting event celebrating female playwrights – with staged productions, new work readings, expert panels, and mentorship opportunities for selected artists.
---
Join WOMEN CENTRE STAGE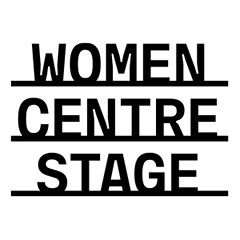 We need you to help us make change happen.
The Women Centre Stage program gathers male, female, and non-binary allies together to support these goals. Here is how you can help today:
Become a member of Women Centre Stage by making a donation today.
Join us for exclusive Women Centre Stage events online and at the theatre in 2022.
Commit to attending plays written and directed by women, bringing your friends, and sharing with them the importance of elevating women's voices.
Joining is easy, you can choose to make a single gift of $1000 today, or give in installments. You may also consider giving the gift of membership to a friend or family member, as a Birthday or graduation present, or in memory of a loved one. Click above to donate or call 416-203-6264 x 145.
Members of THE WOMEN CENTRE STAGE program will receive:
One complimentary ticket to our exclusive Women Centre Stage event during the 2023 Her Words Festival where members of the program share a cocktail & conversation.
Exclusive updates from the playwrights. These will include updates on the status of their plays, their writing process, and what is keeping them inspired.
---
IN OUR 2020 SEASON, SOULPEPPER LAUNCHED A COMMISSIONING PROJECT TO SUPPORT FEMALE PLAYWRIGHTS. CURRENTLY THE PROGRAM IS SUPPORTING THESE AMAZING WRITERS - CLICK EACH IMAGE FOR THEIR BIOGRAPHIES, AND THEIR NAME BELOW FOR A PLAY SYNPOSIS.
The Guide to Being Fabulous
The Guide to Being Fabulous is premiering as part of our 2023 Season. Onstage October 24 - November 12, 2023
Hiding in plain sight for the majority of her life, Sandra Caldwell has danced at the Moulin Rouge, been a Sears fashion model, and performed on stages around the world. All the while, hiding a very big secret – who she was. At the age of 19, Sandra transitioned from an uncomfortable young man into the glorious woman that she is. Through stories and song, The Guide to Being Fabulous follows her journey from a pickpocket in D.C. to a star of stage and screen.
WELCOME TO MY HOME
As a young girl of 6, Shirley Horn was dropped off by her father on the steps of the Shingwauk Residential School in Sault Ste. Marie. Today, Shirley walks up those same steps every day to get to her office as the Chancellor of Algoma University. Award-winning playwright Falen Johnson explores the heartbreaks and triumphs of the little girl who grew up to be a leading voice for a whole Nation.
Title TBC
A hipster feminist brainy riff on a Harlequin romance. Who is the woman on the cover of all Harlequin romances, having her bodice ripped off by some tall, dark, and handsome man? As a young girl of 13, while boys were stealing their dad's porn collections, Hannah Moscovitch and her friends would go to the Shoppers Drug Mart and buy Harlequins and candy with their allowances, and read them on her bed together. For them, it was hot and taboo, like pornography. In her story, Hannah will deconstruct the woman on the cover, slipping in and out of staging a Harlequin romance, adoring and satirizing the form at the same time.
WILDOMAN
WILDWOMAN is premiering as part of our 2023 Season. Onstage October 5-29, 2023
WILDWOMAN is inspired by the true story of Petrus Gonsalvus, a "wildman" originally presented to King Henry II as a caged oddity in the 16th century, and thought to be the inspiration for the classic Beauty and the Beast fairy tale. Unlike the classic's journey of the Beast, our story explores the beastly behaviour and scandalous relationships of three women of the court: Kitty, the plain courtier married off to Petrus as a social experiment, Diane de Poitiers, the king's much-older, ladder-climbing mistress, and Catherine de Medici, the hated (and feared) Queen of France. Told as a dark comedy, WILDWOMAN uses an historical lens to examine shifting notions of power, marriage, class, freedom, how we treat those who are different from us, and what it really means to be a beast.
Queen Goneril
Queen Goneril premiered as part of our 2022 Season on August 25, 2022.
Queen Goneril is a prequel to King Lear. Set seven years before Shakespeare's masterpiece, Shields focuses on Lear's three daughters as they try to survive in their father's unruly home. Goneril is a natural-born leader in a man's world trying to prove that she is ready to govern. Regan pushes at the limits of her freedom. Cordelia is fed up with trying to keep the peace. Throughout, the sisters struggle to care for one another and carve out a future for themselves in a patriarchal system that was not built for them. In placing the sisters at the centre of this story, Shields works to challenge the authority and dominance of the original play and deconstruct notions of patriarchy and power. She wants to complicate these dismissible characters in order to stake out a place for the silent women of the past so that we might draw a line from those stories to our lived experiences today.
---
This commissioning project is an initiative within Soulpepper's New Play Development program which is supported by Kevin and Roger Garland and BMO Financial Group. The Playwrights Guild of Canada's Women's Caucus is pleased to support this work.