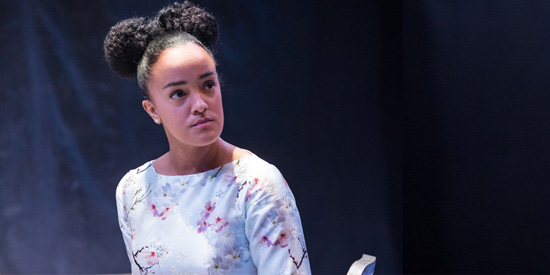 Artist Experience: Bahia Watson on the Role of Women in The Virgin Trial
In The Virgin Trial I play Elizabeth Tudor, the person who went on to be known as Queen Elizabeth I, Gloriana, the White Queen, and the Virgin Queen. But this play takes place before that, and we meet Elizabeth, or Bess as she's called, in her teenage years. Henry the Eighth, her father, is dead, Katherine Parr, her step mother is dead, her younger half brother Edward is a child king, and Bess has been called into the infamous tower for questioning, the tower where her mother, the infamous Anne Boylen was held before her execution.
As I was working on this, I kept thinking about Serena Williams and specifically her recent scenario at the US Open last year. There are people who adore her, who see her greatness, who see her as a queen, and there are people who, from my perspective, seem to be bothered by her ambition, by her power, by her refusal to play the game the old way, by their conservative rules, they are unsettled by someone like her, someone expressive and relentless, and, indeed, special.
A woman's place. How much has a the notion of "a woman's place" changed in the last five hundred years? If I say I want to be king, and I mean it, how is that received? How does that make you, the reader feel? I want to be king. I want the power. And, I deserve it.
One of the things I enjoy exploring most through Bess is the feeling of entitlement, which is not something that comes to me naturally. And it has been remarkable and useful in my life, both within and outside of the play, to sit in that energy, to practice the feeling of wielding it, to practice the feeling of taking – taking what I want, taking all that I feel I deserve. But what does ambition cost a woman? What does she sacrifice in order to build the strength to shatter those ceilings? An entitled woman, a woman entitled to power, a young woman entitled to power, a girl – child of a king and a sex-shamed mother who he had murdered, who was sent to live in exile, who went from celebrated princess to extraneous dependant, a motherless child, an outsider with an unshakable certainty of what is hers. How is a girl like that received in the world, 500 years ago, to today? What does it take, what are the characteristics required to assert agency and capability amongst people who see you, a girl, as incapable and, for the most part, unworthy, royal blood or not; in a world that wishes to deny you what you feel – what you know – is rightfully yours; that tells you you can have some, but not all, don't you dare ask for it all.
And then, what if she does? What if she does dare? Dare to dream of having it all…? What if she doesn't just dream, what if she acts on those dreams, what are the consequences? How does she do it? The character of Bess stands out as much today as she seems to have 500 years ago: highly intelligent, ambitious and, in many way, unapologetically so. Unapologetic ambition on a girl is almost criminal to some people.
Kate Hennig's writing is direct and concise, there is no where to hide, it moves forward with urgency and a sharp sense of humour. Alan Dilworth's direction and staging has shaped a tight, taut and thrilling play that will make you have to think fast, react, and decide for yourself, what is true? And – who is guilty?
Bringing The Last Wife from Stratford to Soulpepper has it's obvious shifts, in space, but less predicted, were the shifts in time. The Last Wife happened in Stratford at a time where it felt very optimistic for strong women, people left the show feeling revved up. When we did it again, it landed at a different time. Hillary Clinton lost, Donald Trump was being inaugurated and the world had changed a lot. And, as you all know, theatre is alive, it is a living conversation, it doesn't exist in a vacuum and so as the world changes, as you, the audience, and us, the company, change and evolve and develop new insights and opinions, the same information is received differently. The same play sits in a new world every night, and soon, in a new city. In the remount, I am looking forward to discovering the difference between the two, which I can't anticipate right now. but I do know the world, to me, feels like it is rapidly changing. Conversations on womanhood; on sexuality, on consent and accountability, on gender equality, equity, MeToo, and timesup – these themes are constantly active in our world, in our city, in our mouths, our minds, and on our screens, and so, it should be on our stage too. And it will be.