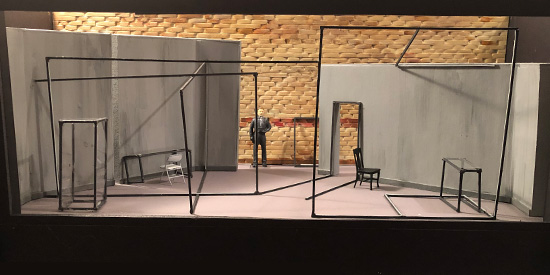 Artist Experience: Shannon Lea Doyle on Designing 1 Set for 10 Plays
It can be tricky to design the perfect playing space for one show, let alone 10 completely different plays. Set and Costume Designer for Little Menace: Pinter Plays Shannon Lea Doyle has the unique challenge of making designs that can transform, and transform, and transform through all 10 of Pinter's works. Here is what they shared about the process.
---
Designing for ten plays has been surprisingly similar to making a sculpture.It has been joyful to work on a bunch of plays by Pinter because I didn't know his work before (having not gone to theatre school) but now I think that I am in fact very Pinter-esque. My boyfriend doesn't agree, or maybe just doesn't want to.
I found the plays to be very open, as though Pinter left a lot of room for me.
I have thought a lot about making art as a process of not knowing and I have thought of designing as creating impulses in other people, it's been really nice to revisit both of these creative approaches in this process. Because I have thought of this design as a sculpture so often it's made me extra grateful to be on a team with so many excellent craftspeople and technicians who are able to make the things I design on such a massive scale, like it's no big deal.