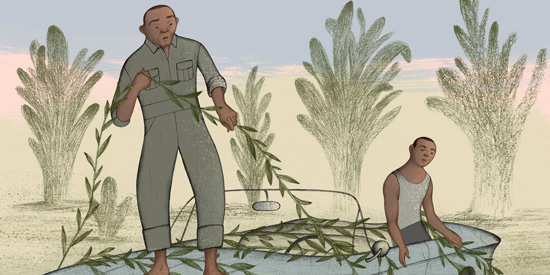 Artist Experience: Waleed Abdulhamid on the Music and Meaning of The Brothers Size
Waleed Abdulhamid is working with the three guys in The Brothers Size  to incorporate beautiful vocal and musical work into the show. We asked him what he is planning and where this inspiration comes from. He shared a bit about his vision, and how meaningful the experience of working on this show is to him.
---
Can you share any thing about the music you are creating for The Brothers Size?
This piece is not going to only be percussion; it's going to have flute, marimba, likembe (African thumb piano) and chanting vocals. Today I discovered I have three really strong singers which is great. Even, I checked some harmonies and I'm thinking to myself "whoohoo! I'm so excited". I gave them different harmonies, I checked their range – I can be very comfortable and safe to experiment musically.
We're going to use everything on that stage; there are going to be drums are going be created with skin on both sides, and they're going to be huge, they'll be a part of the set as well as an instrument. I will also have this huge marimba almost the size of the tables in the atrium, and likembe, an actual flute, and a vocal processor to create more vocals.
We've started to create it already, we've translated some of the words to Yoruba, and I did a little bit of a song with a choir and we're going to be doing it in the play as well.
Where does the inspiration for the compositions come from?
I have over thirty years of music in theatre, and a lot of the music is inspired from the text. This text is inspired by a lot of African stories and spiritual figures and traditions. I was born in Sudan so that will also give me the experience of  both worlds – I will get inspired by the script, but the script is inspired by the traditions of Africa. It's almost like melting both worlds together. You'll hear a lot of influences from the Blues, and Yoruba, Nigeria, through different origins, through the Nile, all the way to Harlem, to different places in Alabama, Mississippi, and in church. A lot of that is combined between the past and present of today.
What excites you about working on The Brothers Size?
I'm a father, I have a teenage girl who is 16 and a dreadlocks boy who has always been asked why he looks different. Going back to look at the playwright Tarell Alvin McCraney's story, it's almost the same. He's picked on as a different – even when he was the smartest in the class, there are always questions. As a father, a black guy, and an African person, somebody who lived in both worlds because the story has the three spiritual figures, to be the directors of those three guys in the hardship of America, I feel like I belong to that in a lot of different ways. A story like this is speaks to what I think, today and in the past. When I say the past, I mean as a young African man who came to America. Even though I'm not young, I'm 50 years old, I still try to understand what this world is all about. That is why I am really excited to do something like this, especially in a city like Toronto.
For me the winning card when I do work like this at the Young Centre, different people from different corners of the world can come into the Michael Young theatre to watch the story about three young men having really hard time but bridging that story with the past and the three different spiritual figures is what really excites me and is really important to me.
One of the reasons we are refusing each other is because we don't know each other. You smile at me that's an invitation to get to know you. If you say hello, that is the first step. If you hug me that's another big humanity step. I think that's most important thing. Art always reflects the true colours of humanity. To share that is going to bridge the gap, and then people will know what is happening. When we create art we have the privilege of being on stage and reflecting what humanity is.