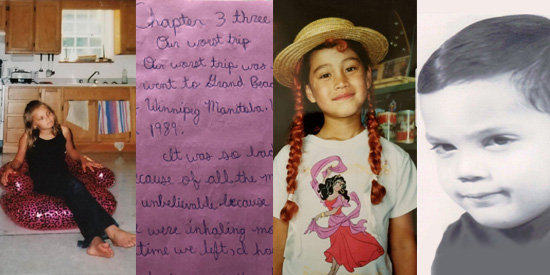 Artist Experience: Words For My Nine-Year-Old Self
Rose is nine, almost ten, and she has these questions that don't quite make sense to her. Her thoughts are constantly going around and around in her head, as she tries to find a sense of certainty about who she is, where she belongs, what the world is, and what she wants from it, so she goes on an amazing journey to find her answers. We asked some of the company of Rose what questions they had when they we're Rose's age, and what they would tell themselves back then. Here is what they had to share about their little selves.
Troy Adams, Ensemble
What questions did I have about the world at 9 years old?
Interesting enough, the majority of those questions I still have today. There may be slight variations – but ultimately the same. I came to the understanding that we are continually growing and changing. The quest for those answers, is, life.
What would I tell my 9 year old self based on where I am today?
You are worthy and you have so much to share. Know that. And love yourself.
Sabryn Rock, Teacher/Ensemble
What questions did I have about the world at 9 years old?
I remember having a lot of questions about life and death. I was an alter server at church and would serve at funeral ceremonies so was exposed to death at a young age and in some ways was desensitized to it. I remember not being scared of death but being fascinated specifically by seeing a body in a casket. That definitely led to some existential questions similar to Rose like 'Why are we?' And 'How are we?' or 'why do we exist?'
I also asked questions about religion and beliefs and our purpose on earth. I had a hard time reconciling getting older even from a baby to a very young 9 years old. I distinctly remember the realization that I was no longer a baby who would be taken care of and had to learn independence and autonomy and that was a very painful truth for me around that age.
What would I tell my 9 year old self based on where I am today?
I would tell my 9 year old self that it's okay to be alone. It's okay to be weird and not go along with things you don't believe in or agree with; to march proudly to the beat of your own drum and not be afraid to ask hard questions much like Rose. So much of my childhood was spent mimicking my brothers or following friends around doing whatever they were doing even if I didn't find it fun for fear of not being included or left alone. But I actually had a great time playing on my own, writing, singing or lost in my own imagination and could entertain myself for hours. Now as an adult being a socialized introvert I crave those quiet solo times and I would give my 9 year old self a gentle reminder that I'm pretty great and to enjoy those times of solitude; I remember that so often those times were when I was the most creative as a kid; I could also take a cue from that little girl back then and try and be more creative in my private time which is something I don't do as much as an adult.
Michelle Bouey, Ensemble
What questions did I have about the world at 9 years old?
I was a very curious child and asked a lot of questions. I grew up in a household where I heard two languages: English and Korean. So, up until a certain age I sometimes didn't know which language some words belonged to. An example that makes me laugh is: Ja mot (the word for pyjamas in Korean) – I remember going up to my parents and saying "How do I say Ja Mot in Korean? I wanna teach my friends at the sleepover tonight!" I also had a major fascination with big words. There would be certain words I'd hear on TV, read in books, or overhear adults saying and I would persistently ask my teachers what they meant. Then I would go home and teach my sister, even though she is older than me and likely already knew them!  One question I asked my parents, and that stuck with me for much of my childhood, was wondering if there was a way to make time stop. Part of me genuinely believed it could be possible and so I thought that maybe my grandparents might be with me forever.  My grandparents are gone now, but somehow the memory of that question will stick with me for life.
What would I tell my 9 year old self based on where I am today?
To always be herself. To realize that who she is, is enough. She doesn't need to try to change her appearance or personality just because it's not what other kids look or act like. Remind her that she's special. And, one day she'll meet other friends and people who will see that in her, as she will see it in them. I would tell her to be more brave, to trust her instincts more, to believe in her talent. I might tell her to step out of her comfort zone more often, to take a chance on being wrong. And, even though I already have stick-to-it-ness, I would encourage her to persevere even when things seemed daunting.
Erika Morey, Assistant Stage Manager
What questions did I have about the world at 9 years old?
When I was about Rose's age, I fell in love with books.  I was learning a lot about the world as a result of my interest of reading, but of course this newfound curiosity opened up a whole lot of new questions, as well! I started to wonder how my life might be different if I didn't live in Moncton, New Brunswick, or if I'd been born to a different family, or under a different set of circumstances. Would I still be me? Was my identity tied to my history and my environment more than anything that was especially uniquely me?  Was it possible to leave my history and environment behind to pursue a life that was entirely mine? I'm not sure if I would've had the language to articulate my questions exactly this way, but I did question if I would forever be defined by my parents choices.
What would I tell my 9 year old self based on where I am today?
I'd reassure nine-year old Erika that her circumstances and surroundings would shift many, many times as she got older, and that her perspective and sense of self would keep growing and changing as well. I'd try to explain to her that it's perfectly valid to choose to abandon, re-write or embrace the narrative of your early life if it serves you as an adult.  I'd also tell her to put down her book and play outside for a while.