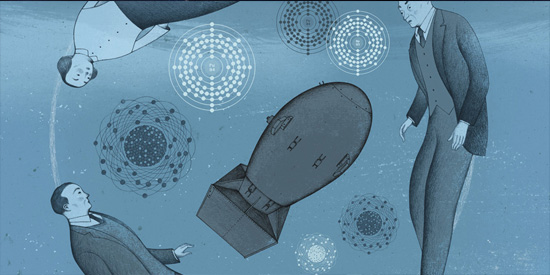 Artist Experience: Katrina Darychuk on Directing Copenhagen in Today's Climate
Copenhagen by Michael Frayn hits the stage next month so we asked director Katrina Darychuk a bit about what she's planning for this historical, ethical impasse that is remarkably timely in our world today.
---
What is it about Copenhagen that makes you want to direct it?
I've known about Copenhagen since I saw a production of it at the Vancouver Playhouse when I was 12. No doubt I did not grasp its complexity—scientific or philosophical—but I was rapt by its many layers. And that memory also includes a lot of humour, so the darkness of the wit made an impression.
There is a lot of poetry in this play, and that was the language that first spoke to me. It's a difficult piece with a poetic pulse. There is a search for a common language within the piece that strikes me as very universal element.  I love work that finds a way to artfully and meticulously examine our biases, and it does just that.
What excites you about the text?
Michael Frayn has created a purgatory-like world, so it seems static but we're also in a memory play, a historical play, and a philosophical mind-game.  I am excited by the potential of creating a space that can be malleable and responsive to the thoughts and desires of Bohr, Margrethe, and Heisenberg. Even though the characters are dead, their argument is very alive and urgent.
Working with content that is unknown—quantum physics, the creation of the A-bomb–offers such an immediate challenge to the creative team. It's a bit dangerous and requires a steady balance of research and humility. The politics and the physics are entirely intertwined with the personal in this story and that entanglement is what excited me the most.
Can you share anything about your approach or your vision of the piece?
I'm very aware that as we start rehearsals, there are nine countries holding significant arsenals of nuclear weapons around the world.  Four were in the news today—North Korea's talks with the US about denuclearisation, and India and Pakistan's increasing conflicts, which would be the first conflict between two nuclear states, ever.  The events of the story of Copenhagen have led to this reality. Our approach will no doubt acknowledge this fact,  and examine the characters' pursuit to understand their own complicity.