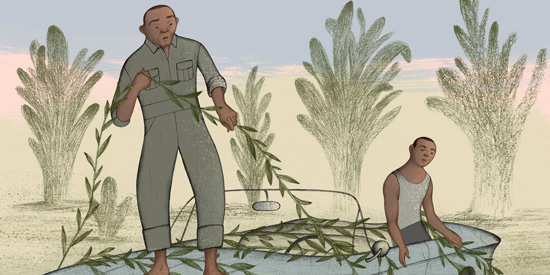 Artist Experience: Mumbi Tindyebwa Otu's Vision for The Brothers Size
The Brothers Size by Tarell Alvin McCraney is in the rehearsal hall beginning to bring the Yoruba mythology to life on stage next month. We asked director Mumbi Tindyebwa Otu a bit about what she's planning for this beautiful piece that weaves African gods with a contemporary perspectives on masculine norms and expectations.
---
What is it about The Brothers Size that makes you want to direct it?
There are many things that strike me about this play. One of the first things that drew me to The Brothers Size was its portrayal of black masculinity. The play is unique in showing the tender side, the more vulnerable, more intimate nature of black men's relationships with one another and with themselves. This is a perspective that we rarely see on stage, on screen, anywhere really.
I had also watched and been blown away by 'Moonlight', the Oscar Award winning movie based on Tarell's play 'In Moonlight Black Boys Are Blue', and was excited to discover more about him as a writer.
I was also drawn to the fact that Tarell draws his inspiration in creating the play and its characters from the world of Yoruba mythology.  He could have simply written a play about three black men growing up and living in the projects, but instead he crafted and named his characters after African gods. This fascinated me. It was something that I felt was very inspiring, and uplifting  and elevating of the lives of black men that are often sidelined, marginalized and criminalized in our society.
What excites you about the text?
I love the poetry of the language. The language is very lean and there is a lot of breadth and room to imagine and interpret as creators. The play really invites you in with its poetry and its theatricality. There is also a lot of beautiful ambiguity in the world that Tarell has created. The overall narrative is super clear, but you are always being asked to dance in between the spaces of what is said and left unsaid and having to piece the pieces together.  I love that about the piece.
I love that the play is also operating on so many layers and that there are always multiple truths at play. Unpacking all of these layers is the exciting challenge ahead of us as we head into the rehearsal hall.
Can you share anything about your approach or your vision of the piece?
Over my conversations with the designers we have been asking questions about how world of Yoruba mythology co-exists or is in relationship with the contemporary feel of the play and making choices that I am excited to explore with actors and the rest of the creative team in the coming weeks.
I am also excited about working with the incredible Waleed AbdulHamid, as a live percussionist/musician for this piece. I have been a huge admirer of his work as a musician, musical director and composer. Waleed will be in the room with us the entire rehearsal process and will be performing percussion live as well as creating music with the actors. Overall there is a just a lot to discover going into the rehearsal room, and I believe for our audiences. The writing is masterful, and I do think there are lots of ways into this play.