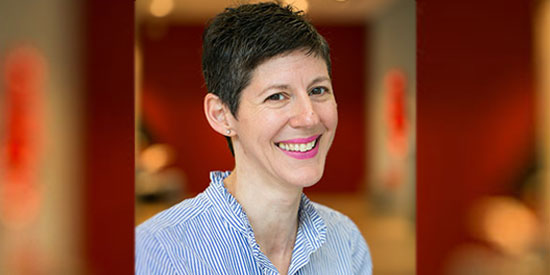 Donor Profile: Lesley Wiesenfeld
How did you first learn about Soulpepper/What is your first memory of Soulpepper?
I've been going to shows at Soulpepper for such a long time that I actually can't remember how I first learned about the company, but the sustained memory and feeling I have about Soulpepper is the pleasure of being able to go to see inspiring performances in my very own neighbourhood.  My husband and I are lucky to be able to literally grab a quick mid-week dinner after work, then walk over to see a great show. That feels pretty special to be able to do.
What inspires you to support Soulpepper?
I was really lucky to have an exceptional English and theatre teacher in high school – the kind of teacher who not only taught drama but who mentored anyone lucky enough to be in her class. She also directed the school plays where we learned teamwork, empathy and dedication.  So I have a very strong fondness and affinity for the energy and work it takes to put on a show.
How and why did you get involved with Top Women?
Top Women reflected another chance to support creativity, with the added lens of women supporting other women. This seems like an easy thing to say yes to in life, work and giving.
What would you tell someone who is thinking about giving to Soulpepper? And, why do you think the arts should be a priority for philanthropy?
The story of Soulpepper and its success as a 'little new theatre company that could' has always been very impressive. Giving to Soulpepper offers a chance to be part of something that is both intimate and growing at the same time.  It is also a chance to do something that enables opportunities for creative work for a whole host of people and that feels good. I also think that the recent challenges and the consequent shifts in leadership reflect an opportunity to recommit to a company aspiring to be even better and that is an important commitment to support."
Where do you see Soulpepper in 10 years?
I see Soulpepper hopefully doing what it has become good at doing over the years: presenting classics that we kind of remember from Grade 10 drama class but didn't realize could be as exciting to see performed and developing new and creative performances that you feel lucky to have seen.
---
Top Women is a community of exceptional women collectively underwriting a female-directed, female-written or female-centred Soulpepper production each year.
This year, Top Women is underwriting a deeply moving production written by award-winning Canadian playwright Beverley Cooper and directed by renowned theatre artist, Jackie Maxwell. Innocence Lost: A Play about Steven Truscott is a provocative and poignant re-examination of the Steven Truscott criminal case. Themes of truth, community, and coming of age are explored in this powerful piece.
To find out more about Top Women, click here.
---
The views and opinions expressed in the articles are those of the author and do not necessarily reflect those of the organization.