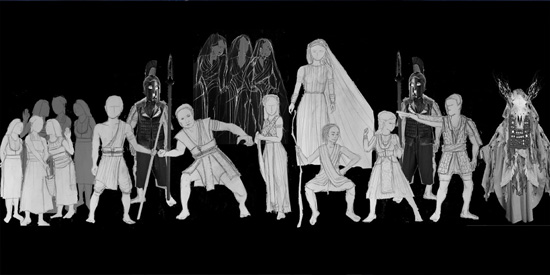 First look at Michelle Tracey's Designs for Wedding At Aulis
The World Premiere of Wedding at Aulis begins in just a few weeks! Academy graduate and playwright Sina Gilani is working with some of Soulpepper's most established artists as well as some of the freshest artists to come through the company – like set and costume designer, Michelle Tracey, who is a fellow Academy graduate. We asked Michelle to give us a sneak peek at the designs for this intimate (and nearly sold out) show.
---
The audience will enter into an intimate enclosed playing space with seating on all sides. Draped fabric serves as an entrance to the soldiers tents, as well as framing the three Fates who act as storytellers of this myth. The centre of the playing space may evoke a barren landscape on first glance. As the performers move through the space, their steps will begin to uncover the vibrant red colour beneath a layer of fine black mulch.  I envision this floor as a trampled poppy field, covered by dirt and ash, or a blood stained battle field.
The costumes blend ancient greek lines, with eastern folk dress and moderns materials to create a unique universe that we hope will resonate with audiences on multiple levels.