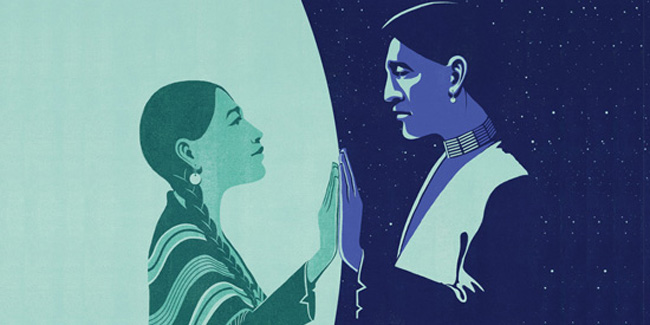 From the Rehearsal Hall: What is Indigenous Love?
In this new series of weekly blog posts, Community Outreach Consultant Tyler J. Sloane will provide compelling content, commentary, conversation, or insight into the rehearsal process of Soulpepper's first Indigenous production, Almighty Voice and His Wife by Daniel David Moses.
---
'Always looked at me like a stranger when you found out i liked something you couldn't understand.'
 – you are enough; love poems for the end of the world – Smokii Sumac
When I first met Jani Lauzon I saw her in Blood Wedding directed by Soheil Parsa at Buddies In Bad Times Theatre, and she held a strength and passion in her that I hadn't quite seen in someone before. This all being before I knew her, her work, and her heart. Later I would meet her again during Weesageechak Begins to Dance Festival at Native Earth Performing Arts in 2017. It was there that we had an orientation day with the whole acting company, and we sat in a circle. The day was facilitated to warm us up to each other, and the work we were about to get started on. Within this day we spoke into or listened to how Indigenous Theatre had existed in Toronto over the last few decades.
My name is Tyler J. Sloane. I'm a two-spirit non binary twenty-five-year-old Anishnaabe, Chinese, Irish, and Greek emerging artists. A lot of labels I know, but my story begins by coming to Toronto to learn more about my queerness, my Indigeneity, my Theatre community. It's through my journey that I began to learn about my Indigeneity through art, and this common question that I continue to seek out and investigate:
What is Indigenous Love? 

What did it look like? 

What does it look like now?
It was during my first year as a part of Weeseegachuk that I learned about Indigenous Theatre making and how it was held in Toronto. Before that I had known very little coming from Alberta as a graduate of a theatre post secondary. In the circle, Jani mentioned how there was a time when few would come and see her theatre or specifically Indigenous theatre she was a part of. Which was both not a surprise and also surprising. 
Growing up through academic theatre, I learned of so many styles, including vaudeville, but no one could speak to Indigenous theatre or storytelling. Which even more so is to say I had a teacher whose father was George Ryga, knowing this was a white man, who had written the play The Ecstasy of Rita Joe. This was the little information I had as an emerging Indigenous writer and theatre creator, and knew very little beyond this.
Jani and others mentioned a story to us in which there was a show at Theatre Passe Muraille and how the piece was staged in the back space. The seats had been sold because of the donors and subscribers, but no one would come and see it. So much so, that the company producing it and performing it went into the streets inviting folks to come see the work, just so the show had an audience to perform to.
During the world premiere of Almighty Voice and His Wife by Daniel Daniel Moses, Jani played the Wife.
I had only learned about this fact when coming on board as Community Outreach Consultant, which was something I didn't know prior, and was elated to learn. How full circle to see an emerging actor now an established theatre and well-rounded artist directing the very show she helped premiere. I worked previously with Jani on I Call myself Princess last season at Cahoots with Native Earth, and came on board as a high recommendation of hers. This was all very wild.
For those of you who don't know, I'm very new in my journey with connecting with all my communities. Yet it was the love of theatre and queerness that first brought me to Jani Lauzon. Which is to say that it's Jani's love of theatre, love of her community and sharing stories, that brings us all Daniel's piece now. Especially given the light on the complexities that existed in Soulpepper in the last couple years.
'Remove the pressure
I'm only here for
What you choose to give freely' 
– you are enough; love poems for the end of the world – Smokii Sumac
After the first marketing meeting I was in with Jani, we sat down over the phone to talk about what was important with this production, and what we wanted to invite everyone into. First, we knew we had to be accountable to the community as best as possible, with the theme from Jani to 'Find the solution' in efforts for you our theatre patrons, community, Indigenous peers and relatives to see through the window into our process. Which is to say, we wanted to ensure that each step we took in creating and devising this production was with one that was in a good way. This being our smudging, and ensuring we start each day with smudging. Both ceremonious in starting in building community, in starting projects or journeys, and in the practice of self love to: speak, see, hear, think, feel, and walk in a good way. Second, we wanted to shed light on the complexities of Daniel David Moses' story, as it holds themes and theatrical devices of Vaudeville about a real life man, and give a path to patrons and audiences as they walked this journey through social media all the way up to opening night and the shows following. Then further, we wanted to ensure everyone we knew could come and engage with this story.
The task: to take skills and connections I had to start building lists of folks who should have access to the story, folks who would enjoy this story, and further folks who already contributed to Indigenous Storytelling.
It was from here that Jani and I jammed on exactly what I would talk about for the blogs. As my job for this production, is Community Outreach Consultant, and one of my tasks are these five blogs to come. 
We jammed about topics and conversations still to be written, but one that I wanted to ensure we talked about was; Indigenous Love. That we have full capacity for love and are beautifully, fiercely, and artistically capable of showing love in story, practice, and community both in our mutual pasts and ever evolving present.
Earlier this year I had the immense privilege of being Paprika Festival's Indigenous Program Day Producer. The four playwrights: Theresa Cutknife, Cole Forrest, Jesse Wabijig, and Joelle Petters were producing plays of their own, and my task was to supplement the day with a cabaret and panel discussion.
From witnessing these productions from the four playwrights, I saw a common thread that sparked the idea of theme of the day:Indigenous Love. From there I knew I wanted panelists who had moved through the ever changing Theatre Community who were already established Indigenous artists, one such panelist being one of Almighty Voice and His Wife's cast members; Michaela Washburn. I knew I wanted to bring together Indigenous soloists who could share with and contribute to the conversation of 'Indigenous Love'. Having both the panelists and soloists gave such breadth to what Indigenous love can look like.
The result was breathtaking. So, if I'm to pull out key themes and ideas from that, that I'm now able to see within this production; it's this:
Our stories as Indigenous and Metis people shared orally, physically, or through writing are examples of Indigenous Love.

Indigenous Love looks at ceremonies we engage in; with ourselves or with community.

We as people who continue to seek reconciliation, who continue to shed light on our missing and murdered Indigenous women, who fight against pipelines, who continue to fight for our traditions are Indigenous Love.

We existed, as artists and storytellers, and speak on love in itself is revolutionary, present, and grounded in the seven generations that came before and the seven that come after.
So join me as I start this journey with Almighty Voice and His Wife: where we see Indigenous designers, writers, performers, and directors pour love and hearts into the work. Digging deep into the complexities that exist in Daniel David Moses' piece as they collide with western themes and structures and Indigenous lives and love. 
Miigwetch for taking the time to hear my journey, and as I dig into more of this story! Stay tuned for an interview with Daniel David Moses as I discuss how the play lives today in Toronto, interviews and imagery from our designers on how they're helping to visually paint this story for the performers to accompany, a dive into the complexities of Vaudeville and Indigenous storytelling, and more!
Until then I pose this question through some poetry to both western and Indigenous audiences:
Where the trees meet the water, now buried beneath tall condos and skyscrapers,
Through streets that hold histories and stories and love and pain,
Beyond reserves, stereotypes, expectations, and ideas formed around us,
Walking with, sharing space, whose shoulders we stand on, and mourning the loss of youth and women.

Will you share love with the Indigenous community caretaking this land?
How do you cherish and hold the Indigenous love whispering and singing around you?
What does Indigenous Love look like to you if we never tell you what it looks like?

For my Indigenous communities abroad, displaced, found, and connected;

What will Indigenous Love look like to our descendants?
How do we honour our ancestors love, much like Almighty Voice's?
---
Almighty Voice and His Wife begins performances on October 11 and runs through until November 10. We invite you to join us for our first Indigenous production, and to share in the experience with artists and audiences alike.