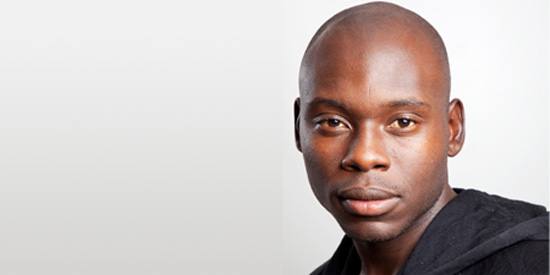 "I just hope laughter is a good medicine for cold weather!" – Academy Blog by Christef Desir
It's the end of November and most of my fellow Academy members are gearing up to be part of Soulpepper's Family Festival. This is the second Family Festival show I will be a part of; last year I was in It's a Wonderful Life, a staged adaptation of the famous movie by Frank Capra. It was directed by Albert Schultz and it was my first time working with many of Soulpepper's resident artists, where we performed in the Bluma Appel Theatre.
For this year's Family Festival I will be doing The Story by Martha Ross, co-produced by Common Boots and Soulpepper. I am happy to be doing this project with four other Academy artists: acting with Dan Mousseau and Marcel Stewart; wearing the wonderful wardrobe of Alexandra Lord; and being co-directed by Katrina Darychuk. This year our stage is a bit different, this year will be my first outside theatre show, where Christie Pits Park is our stage!
We have just finished our first week of rehearsal and it has been quite an exciting process. The Story is a fun, comedic parody of the nativity story. Doing an outside show during the winter is brand new for me; we have to be ready to adapt to changes in temperature and changes in terrain. We are also preparing to perform for up to 400 people on some of the busiest nights and making sure everyone can hear the show is a big vocal challenge. I love when you know you are growing as storyteller from doing a certain show and The Story is one of those shows.
I felt prepared to act in this style of show because the Academy recently completed two six-week comedic workshops: Clown with Leah Cherniak; and Commedia Dell'arte with Marcello Magni. Both are master teachers and both styles of comedy are based in physical comedy. In these workshops we were constantly challenged to create our own routines, bits and gags. So now during rehearsals my fellow Academy actors can offer great prompts and ideas for the directors to work with. I just hope laughter is a good medicine for cold weather! ​