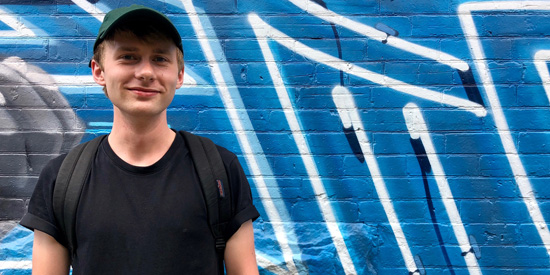 Jacob Kay: Six Weeks with the City Youth Academy
I was first introduced to Soulpepper through one of their school visits when I was eight. Having just moved downtown, these school visits led by various Soulpepper artists including: Paula Wing, Martha Burns, Bill Webster, Sarah Wilson, and Jennifer Villaverde gave me my first taste of theatre. I find community programming like the City Youth Academy and school visits a crucial method in producing an inclusive means of artistic expression for youth. After more than a decade later, programming like the City Youth Academy is one of the reasons I felt so strongly to apply to work with Soulpepper this summer, this time as a program assistant.
The City Youth Academy has been such a rewarding opportunity to be a part of. I had the chance to work with ten vibrant, eclectic, and diverse young  performers, each bringing such a great enthusiasm and sharpness which reminded how joyous theatre making is. As the Program Assistant, I worked with Program Leader, Jennifer Villaverde, to assist in facilitating the guest artists' workshops, creation and exploration in various forms of devised theatre, and stage managed the final performance. Additionally, the environment within the Young Centre was such an incredible way to spend my summer. For the first time, I was able to go 'behind-the-scenes' and witness the immense dedication and drive each Soulpepper staff and administrator brings to their work.
As far as the CYA participants, they have each grown in various ways over the six weeks. This program's emphasis on collaborative creation has ensured a sense of constructive idea building within the creation itself. Functioning as one unit, a "Blob" as referenced in their final piece I Was Here, is essential to utilizing every single group member's assets and skills, without creating a hierarchy of voices. As well, through creation and scene study work with Guest Artist Jordan Pettle, it was evident how much empathy they had for each other through their keen listening skills onstage. As they got more comfortable with each other, they learned the individuality of each of their peer's processes, a crucial skill in producing an environment conducive to meaningful creation.
Looking at the past six weeks there are so many highlights! Here's just a few:
Blowing bubbles through the Distillery to bring back a sense of 'joy'
Spending a day exploring Graffiti Alley and Kensington Market
African Dance with Guest Artist Pulga Muchochoma
Getting the opportunity to sit in on a Bed & Breakfast rehearsal
Watching the performers ecstatically learn a "Fight Brawl" from Guest Fight Director Casey Hudecki
Getting to know and work with amazing administrators, especially Fiona Suliman and Winnie Doyle-Marshall
Do you know any youth interested in training in theatre and developing their own artistic practice? Applications for next years City Youth Academy will be open next spring.