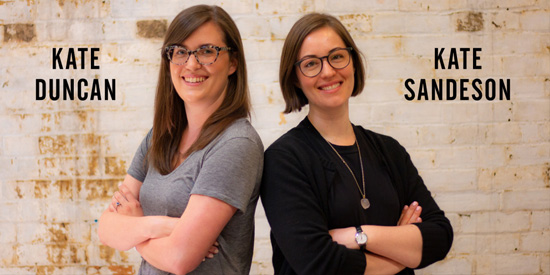 Meet the Kates
Meet Kate and Kate; Kate Duncan and Kate Sandeson, that is. Down in the rehearsal hall for Fool For Love, if you call out for Kate, both the Stage Manager and the Assistant Stage Manager will come running. Get to know them!
What is your job title, have you been with Soulpepper before, and what does your job consist of?
KATE DUNCAN (KD): I am the Assistant Stage Manager for Fool For Love. My job consists of managing the backstage elements of the show, including props and costumes and any needs the actors may have backstage.  Together with Kate Sandeson, our Stage Manager, I help facilitate the process from rehearsal preparation through to the closing performance. I have worked at Soulpepper previously as an Apprentice Stage Manager on The Crucible and The Royal Comedians in 2012, as well as one of my favourite shows to date, Alligator Pie in both 2012 and 2013.
KATE SANDESON (KS): I am the Stage Manager for Fool For Love. I have worked at Soulpepper before as an Assistant Stage Manager on Billy Bishop Goes to War, for colored girls…, Happy Place, and Glenn.
My job as Stage Manager is to help facilitate the rehearsals, both in the hall and technical rehearsals, as well as maintain the show standard once we are open.
This means keeping clear communication open between departments and tracking all the moving pieces that encompass the rehearsal process from actors with props to when lighting and sound might need to happen. In a technical rehearsal the stage manager is the hub for all the information from designers to help create the final technical product that the audience sees on stage each night.
What are you most excited about with Fool For Love?
KD: We have an incredibly talented cast of actors, so it's very exciting to watch them rehearse and piece the show together. Also, one of the most exciting parts of the production process for me is beginning on stage rehearsals where we merge the work we have been doing in the rehearsal hall with the work of our creative team including set, costume, lighting and sound designers.
KS: My favourite part of any rehearsal process is getting to meet and work with the artists who are involved. Fool For Love has a stunning cast as well as an amazing creative team. Not to mention, working with all of the talented people that keep Soulpepper running behind the scenes!
What is the craziest thing you've done for love?
KD: My boyfriend and I took a trip to Iceland last year; he is a very skilled hiker and wanted to climb a glacier while we were there. This was a bit out of my comfort zone but outfitted with ice picks and boots with spikes, we went for it. He ended up asking me to marry him while we were hiking on the glacier, so it was totally worth it!
KS: I'm a pretty low-key person and don't tend to lean towards crazy when it comes to my romantic life. I just make decisions and then tell the people around me I've made them. I did corner my now husband backstage right before we had to do an onstage change during a performance and ask him to be my boyfriend. He had no choice in the matter in the moment – but here we are married for 1 year this summer and together for almost 8!
When you are not at work, what are you doing?
KD: I have a rescue dog named Riley and I love taking long walks with her in my spare time. I also love to travel when I'm not working on a show. My next travel destination is Cape Cod in August!
KS: You can usually find me hanging out with my husband and cat at home on the sofa. If I'm not there I am at Soulcycle – spinning brings me a lot of joy and keeps my energy and positivity up! ​
---
Be sure to catch the hard work Kate and Kate put into running Fool For Love by Sam Shepard beginning July 13.