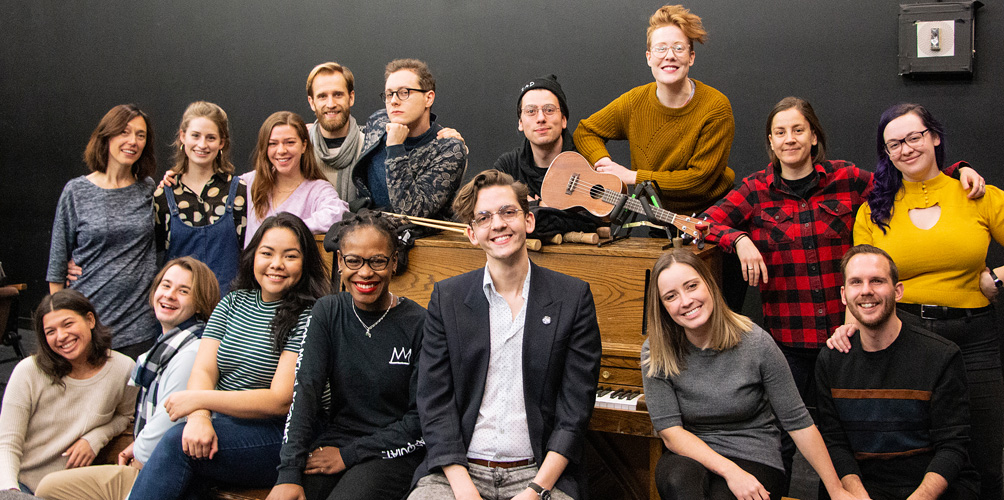 Neverland Welcomes New Lost Boys!
Bad Hats Theatre's Peter Pan is back again this year, and the team is excited to welcome some new (and familiar) faces join the team in Neverland this year. Gabriella Albino, Ann Paula Bautista, and Emerjade Simms are making their Soulpepper debuts this season, along with Soulpepper Academy Graduate Paolo Santalucia (Bed and Breakfast) as Captain Hook. The newbies, Ann Paula, Emerjade, and Gabriella, sat down with us to share a bit about their journey into Bad Hats' Peter Pan!
What was your first introduction to the story of Peter Pan?
Gabriella Albino (Wendy Darling): My first introduction to Peter Pan was watching the 1953 Disney cartoon at the Ikea childcare drop in play centre while my parents shopped around (probably for pillows or something).
Ann Paula Bautista (Nibs / Cherry): Hook! I loved that movie growing up.
Emerjade Simms (Slightly / Barbecue): My first introduction was Disney! It has been a long time since I've sat down and watched the film, but I remember seeing the animation of the little boy in a green ensemble, and that's always the first image that pops into my head when Peter Pan is mentioned. I love his goofy smile.
What is your favourite part to perform in Bad Hats' adaptation?
GA: The flying! It's so darn magical. I also just love everyone's curiosity and sense of play in this adaptation. It's so joyful to perform and it's extra good for the soul.
APB: My favourite part of this version is the music. I get to play in a couple tunes as well and I'm super excited about that!
ES: My favourite part is this stellar cast. Being one of the new kids on the block, I was INCREDIBLY intimidated walking into the room on the first day. All those fears melted away within a few seconds. I was met with so much love, unending support and encouragement and so much acceptance. This has helped me thrive so much in putting my best foot forward in telling this awesome story. I love our team.
To be in this show it seems to be a requirement to have the same sense of magic and wonder as a child – so why do you never want to grow up?
GA: I never want to grow up because wonder and magic makes everything better, and seeing life through those lenses is a really good thing, I think!
APB: I was a lot braver and carefree as a child. I would do cartwheels and basically parkour around the house. I never want to grow up so that I can become a parkour master with a specialty in cartwheels.
ES: I never want to grow up because I like smiling and laughing. As we grow up more and more, we smile and laugh less and less. I want to keep laughing even as I pass over onto the other side. There is something magical about someone laughing with reckless abandon. Babies have no inhibitions, so their laughs make me the happiest. My heart swells every time. I want to keep that magic.
Lastly, what is a fun fact that you'd like to share about yourself?
GA: I can name and sing every word to every Christmas song ever within 5 seconds of hearing it. I am the Queen of Christmas and I unashamedly start listening to festive music on November 1st.
APB: I am a part of a multi award-winning group called the Tita Collective!
ES: I have never once done a cartwheel in my life.
---
Bad Hats Theatre's Peter Pan begins performances on December 6 and runs through until January 5. Audiences enjoy free admission on the day of their performance with use of the Cherry Street entrance. Get your tickets now and start planning your family evening out!