Soulpepper Perspectives: Nancy Palk
Hello to all of you Soulpepper patrons, and colleagues. Hope you are well, and not suffering with symptoms of the virus, or from the loneliness of self isolation and social distancing. When oh when will we all be able to gather together and see live theatre again? … we have no idea … and that makes for a sense of sadness, for sure. I've been trying to make it through the final stretch of this experience, and I don't mean just alive, I mean, sticking to the rules, when we can't see or know the enemy, and not letting the coming on of nicer weather, ease my commitment to the collective task at hand … to flatten the curve. But the lure of a socially distant front porch cocktail with pals, is seeming easier to imagine and justify these days. I admit, we've had a few.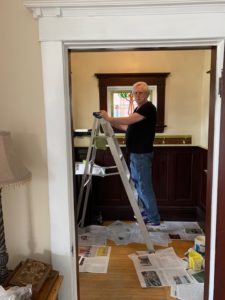 Let me be clear, we've put ourselves to work. Joe and I have been using the time to paint many rooms in our house … the entryway, the dining room, the kitchen, the office, the bathroom. It has kept me sane, and given us a sense of accomplishment. But my tendency is to paint the room, and begin with gusto, for the wonder of walls changing colours, and then I lose steam when we have to do the trim, or the tricky bits. I've got to stay on course, with the painting job at hand, and the fight against Corona.
There's an ache, a longing, a reminder, that we need to be close, to be able to hug, and hang, and eat and drink, and that as much as we appreciate Zoom, it could never replace our time together in the flesh. I so look forward to the next time I can stand on that beautiful Soulpepper stage, and touch that amazing brick wall, and feel I'm back home. And then Weyni will host another really great party, with twinkle lights … and we'll all have sore arms from big hugs, and from the best vaccine the world could have imagined!