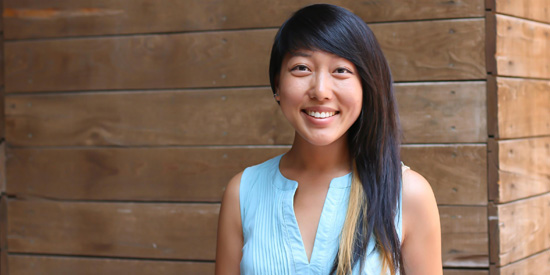 Staff Profile: Angela Chau, Development Officer of Corporate Partnerships & Foundations
What is your job title?
I am the Development Officer of Corporate Partnerships & Foundations here at Soulpepper.
What does your role entail?
My role primarily focuses on managing the relationships with our corporate sponsors and foundation partners that support our year-round programming as well as specific program initiatives, such as the Soulpepper Family Festival and Soulpepper's youth and access programs.
What is the best part of your job?
What I love about fundraising is making those connections with our donors and supporters. It is satisfying to be able to help a donor develop a deeper connection with the company where they believe in the importance of our work to support us with a philanthropic gift. Each time our team receives a positive note or comment from a donor about their experience and why they support Soulpepper – whether it's the talent of the artists they saw on stage, the way a scene made them feel, the importance or relevance of a production, or how the work we are doing in the community had a positive impact on someone they personally know – it is deeply rewarding.
When you are not at work, what are you doing?
You can often find me eating (love food!), taking long walks around the city, riding my bike, and taking fitness classes as I am an avid believer in the importance of self-care and taking care of your body. To me, health is wealth. You can also find me spending time with friends and family, as well as listening to podcasts because I am fascinated by the stories we tell, how they are told, and learning something new.
What is something we would be surprised to know about you?
I love to travel – experiencing and learning about other cultures, its history, cuisines, their way of life, has just helped me to be more empathetic and become a better human. My last big trip was to Peru which has now become one of my favourite destinations! My next trip? A two-week road trip in the States where I'll be visiting Yosemite, Death Valley, Zion, Bryce Canyon national parks – to name a few – and hope to find little gems in between. I also have a pretty extensive plant collection and I recently learned how to drive stick, which is something I'm pretty proud of!
What are you most looking forward to at Soulpepper in the next few months?
Soulpepper will be announcing its newest 2018-2019 season in July and I'm really excited for it all. I can't share what those are just yet but what I can say is, although I am not part of the creative team, whenever I see our Soulpepper artists at work, I am always taken aback by the incredible talent and quality of the shows that Soulpepper has to offer. Stay tuned!
---
The views and opinions expressed in the articles are those of the author and do not necessarily reflect those of the organization.