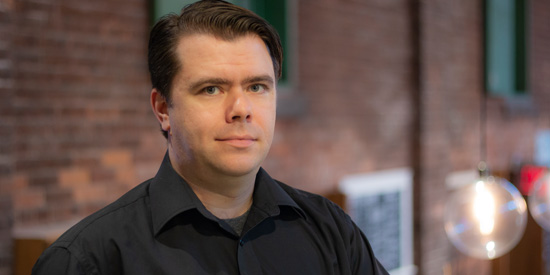 Staff Profile: Christopher Hackett, Young Centre Patron Services Supervisor
What is your job title, how long have you been with the Young Centre, and what has your job consisted of lately?
I've been with the Young Centre for the Performing Arts for 6 months as the Patron Services Supervisor, with a focus on Front of House Management.
What is the best part about the job?
Having the opportunity to work with our outstanding Patron Services Team to provide memorable experiences for our guests has been great, particularly for those who are under-served. I learned so much from our ASL interpreted performances and I can't wait to delve into our Relaxed Performances. It has also been a treat to be able to work with our great volunteer team, a group whose dedication has no peer.
What is something we would be surprised to know about you?
I went to Grad School in England, earning a Master of Research Degree in Theatre and Performance.
When you are not at work, what are you doing?
Commuting to/from work.
What are you most looking forward to at the Young Centre/Soulpepper in the next few months?
Professionally, I'm very excited to see the direction of the company under our new Executive Director Emma Stenning, and our new Artistic Director Weyni Mengesha. Personally I am looking forward to seeing what the Students at George Brown have to offer as we move into the Christmas Market Season. I'm told that the child focused Munsch Goes to School will be a lot of fun and that the kids are wonderful. In the same vein, I'm excited to see Soulpepper's remount of Peter Pan, as Peter Pan happened to be my very first 'panto' experience at the Theatre I worked in England.