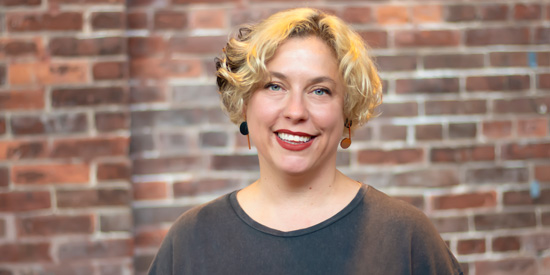 Staff Profile: Erika Connor, Assistant Head of Wardrobe
What is your job title?
I am the Assistant Head of Wardrobe as well as a Costume Designer for Soulpepper Theatre Company.
What does your role entail?
As a member of the wardrobe team I have the responsibility to fulfill a costume designers vision. This could include anything and everything from an actors head to their toes. Examples of which include millinery, jewellery, hair, make-up, clothing, fabric, and shoes. I source, purchase, pull from stock, alter, and/or rent these items, all while maintaining a given budget and deadline. I also costume design for Soulpepper and you can see my upcoming work in our production of Sisters by Rosamund Small this summer.
Describe a bit about the teams you work with?
I work closely with Sarah, our Head of Wardrobe. The wardrobe team includes Geoff, our Cutter, and Barbara, the First Hand. They are responsible for the tailoring, alterations and builds for a production. We also hire on extra stitchers as required.  We work closely with the Hair and Makeup Department Head, Jaqueline. Every so often we are able to employee the services of crafts people for specialty millinery, shoe making, distressing, and special effects. Once the production "hits the stage" we hand it over to our Dressers who are responsible for the maintenance and running of the costumes in the show.
Our wardrobe team truly is a team. I love my job and feel lucky to have found a position where I do what I love to do.
What is the best part of your job?
If I'm being honest, the best part of my job would be the thrill of the hunt… I love being resourceful and finding the perfect item! There is a thrill to thrifting a fantastic pair of vintage jeans that fits the actor perfectly – you all know how hard it is to find a perfect pair of jeans – or finding those SHOES! on sale.
When you are not at work, what are you doing?
When I am not a work, I am at my cottage!  I recently bought a modest little shack on the Georgian Bay where I am improving my DIY renovation skills. Who knew that grouting tile makes your whole body ache?!  I adore kayaking, swimming, mountain biking, stacking wood, and cross country skiing. I enjoy long walks on the beach, and am often seen gazing longingly at wallpapers I can't really afford.
What is something we would be surprised to know about you? 
Something that people probably don't know about me is that I have a twin brother named Eric. No, I don't know what my parents were thinking. He is a chef and landscaper in Vancouver and I adore him.
I also have fantasies about one day opening a shop called "Face, Fanny, Feet" that sells lotions, potions, and oddities.
---
The views and opinions expressed in the articles are those of the author and do not necessarily reflect those of the organization.