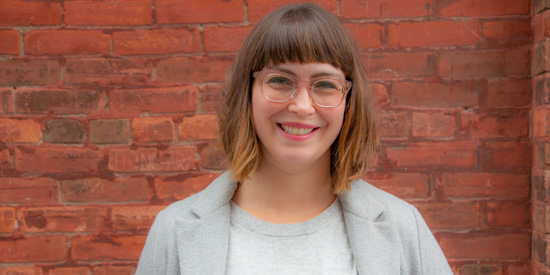 Staff Profile: Kathy Mile, Associate Director of Development
What is your job title, how long have you been at Soulpepper, and what has your job consisted of lately?
I am the Associate Director of Development. I've been with Soulpepper for a little over a year now but, I actually worked for the Company, as Development Coordinator and then Manager from 2004 to 2008. It's hard to believe that there was a gap of a decade when I worked elsewhere. It often feels like I never left.
In my current role, I manage our annual fundraising plan and development operations. It's a pretty diverse portfolio of work and there are often other odds and ends that come my way.  Right now, I am preparing our Fall Donor Renewal Campaign and acting as the event manager for our upcoming gala, Signature Soulpepper.
What is the best part about the job?
How many other people can say they attend opening nights, dress rehearsals, and read-throughs for work? It's a tough job.
What is something we would be surprised to know about you?
I lived in Edinburgh after I graduated university. I worked at the Edinburgh Fringe and got to experience the chaotic and exciting Festival season there. In August alone, the city hosts at least five or six different Festivals – it was a fantastic and fun time in my life.
When you are not at work, what are you doing?
I have two very active young kids and so my weekends are spent going to and from their swimming and gymnastics lessons, shuttling them to birthday parties, helping with homework, etc.  And laundry, there is lots of laundry. When we have a bit of downtime and the weather cooperates, we like to escape to our family cottage on Lake Simcoe.
What are you most looking forward to at Soulpepper in the next few months?
I'm really looking forward to seeing The Royale in a couple of weeks. Beyond that I'm very excited about getting to know Emma Stenning, Soulpepper's incoming Executive Director as well as our new Artistic Director. There will be a lot of new creative energy in the office soon and I'm excited to see what the future brings.