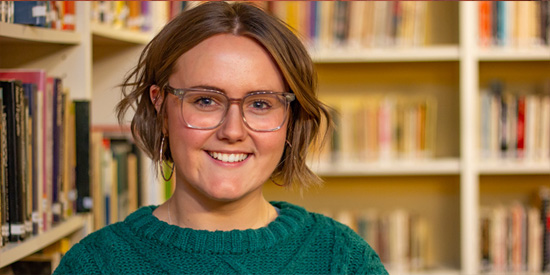 Staff Profile: Milusha Copas, Communications Coordinator
What is your job title, how long have you been with Soulpepper, and what has your job consisted of lately?
I'm the Communications Coordinator at Soulpepper. I started here in October of last year, so it's been a fast paced, but certainly enjoyable, 419 days. Lately it has been a lot of winding up the slingshot we call the Family Festival, getting it ready to launch when A Christmas Carol and Peter Pan hit the stage. There has also been some joyful singing – we're all going to be singing "you gotta bow wow wow" for the next three months until Rose closes. For the record, that is not in my job description!
What is the best part about the job?
I love that my job is to talk about (really good) theatre, with anyone that will listen!
I went into communications not really knowing exactly where I wanted to land, but spent all of my down time befriending the students in my University's theatre department and seeing all the shows in the city…
One day I thought to myself "oh, of course theatre companies need someone to talk with the media and the public, actors can't play every role" and that is the story of how I ended up at Soulpepper putting together this newsletter for you every month. Better yet, if you ever flip open the paper and read a review of a Soulpepper show, that critic got their seat by coming to me first.
When you are not at work, what are you doing?
I am playing weird board games, living out my life as an amateur dancer with my friends, or mentally planning my next trip. I've got a few lined up in my mind right now, just waiting for the right moment to take the time and jet off.
What is something we would be surprised to know about you?
I love monster trucks.
 What are you most looking forward to at Soulpepper in the next few months?
If the bit above about singing "bow wow wow" didn't tip you off, I'm very excited for Soulpepper's brand new original musical Rose. I love musical theatre, and so getting to see our artists that I am so fond of put together this inspiring musical is a real work perk.
Of course, it will also be tremendous to have two cool and intelligent ladies guiding this company into its future. Our Executive Director Emma Stenning has started already and Weyni Mengesha our new Artistic Director will be starting in January. I'll miss having Alan Dilworth around in that capacity but I can't wait to see him back in his element directing The Virgin Trial and the Greek tragedy Wedding at Aulis – his direction of the last Greek tragedy Idomeneus has been my favourite Soupepper production I've seen to date.