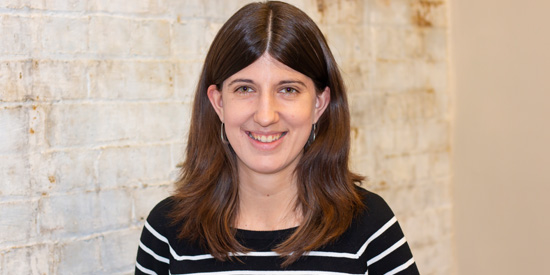 Staff Profile: Seren Lannon, Assistant Stage Manager, Little Menace: Pinter Plays
Right now Little Menace: Pinter Plays is in rehearsal getting ready to hit the stage later this month. Assistant Stage Manager Seren Lannon is part of the magic that happens in the hall to bring a show from the page to the stage.  Get to know more about her and the works she does through her staff profile.
---
What is your job title, how long have you been with Soulpepper, and what has your job consisted of lately?
I am the Assistant Stage Manager for Little Menace: Pinter Plays. My first show with Soulpepper was A Christmas Carol in December of 2017. We are in the thick of rehearsals right now so my job consists of a variety of tasks including tracking props and costumes, running lines with the cast, and assisting our Stage Manager with anything else that may come up.
What has your experience been going from Apprentice Stage Manager to Assistant Stage Manager?
My experience going from Apprentice Stage Manager to Assistant Stage Manager has been fantastic. It's always a bit of a challenge when you take on a new role, but I have loved the opportunity to gain more responsibility and become even more involved with the running of a show. I am also working with some really great people right now, and that has made the transition much easier.
What is the best part about the job?
For me the best part of my job has always been rehearsals. Getting the chance to be in the room and watch artists create something that didn't previously exist, or interpret a pre-existing work in a completely different way, never gets old. I've also always been fascinated by the creative process and how it differs depending on the material and who is involved. No matter how many shows I do, no experience is quite the same, and that keeps it very exciting.
When you are not at work, what are you doing?
Many of my friends are also in the industry so when I'm not working, I try and see as many other shows as possible. I also read voraciously, and run a Bookstagram account on Instagram called @booksonatrain_.
What is something we would be surprised to know about you?
Before I decided to pursue a career in Theatre, I wanted to be a journalist! I spent a lot of time writing while I was growing up, and I still have stacks of journals that I wrote in daily. Although I don't write as often as I used to, a love of literature and the written word is still a big part of who I am. I also played the Alto Saxophone for six years.
What are you most looking forward to at Soulpepper in the next few months?
I am really looking forward to the announcement of the summer season and what the future holds for Soulpepper under new leadership! I am also very excited to see August: Osage County in the spring. The entire team on that show is stellar, and it's a play that I've always wanted to see.