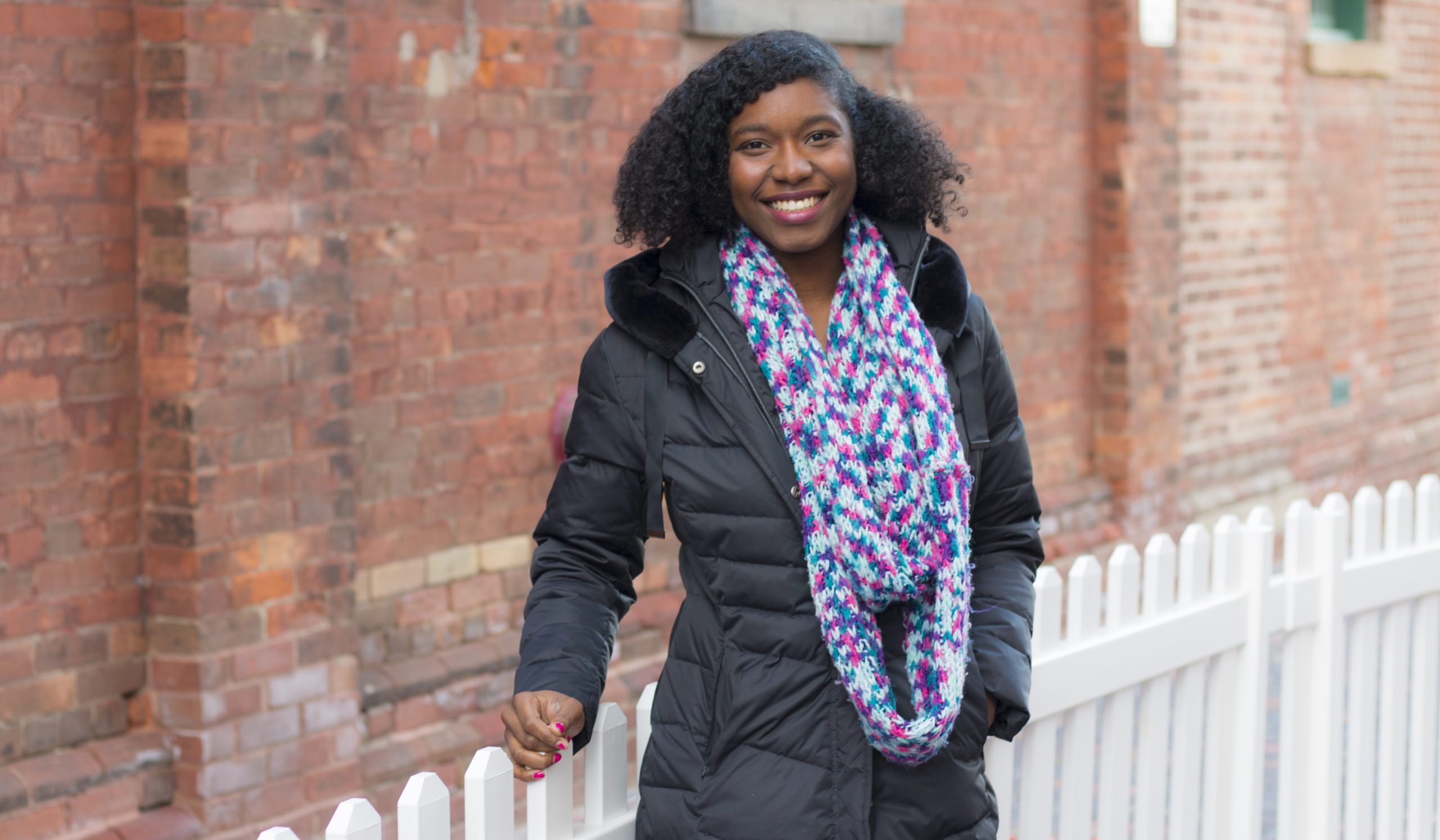 Staff Profile: Winnie Nwakobi, Coordinator of Community Programming
How long have you have worked at Soulpepper, and how would you describe your role?
I have worked at Soulpepper as the Coordinator of Community Programming for 3 months now.  However, I have been a part of the Soulpepper community since 2010. I was a participant in the 2010 Youth Mentorship  Program and continued as an Alumni Programs Participant, a Program Assistant, and a Youth Link Artist.
As the Community Programming Coordinator, I work with the team to run all of the youth outreach and access programs at Soulpepper, as well as programs in schools and the local community. I also facilitate student group bookings for Soulpepper performances. Working in the administration here in my various capacities has been exciting and dynamic. I am now part of a team that provides opportunities for youth to explore their interests in theatre and the arts. These are opportunities that were provided to me, and to be on the other side of it is a privilege and I am very excited for the year ahead.
What kinds of projects are you involved in outside of work?
This past summer, I co-directed and produced a play called SCAT, which was performed at the Toronto Fringe Festival. I came to Soulpepper not long after that, and went through other exciting changes in my life. I basically got a new job, a new apartment, and got engaged all in the same week. The last couple of months have really been adapting to new environments and adjusting to new beginnings.
When you're not at work, what are you doing? 
It depends on the day. I like watching Netflix on my couch, preferably accompanied by a glass of wine. I try to do a wine and cheese night at least once or twice a month! I also enjoy knitting around this time of year. That's something I would really like to master eventually. Right now, simple headbands and scarfs are my thing…I am getting better with hats but I need a whole lot more practice. I LOVE to cook and bake and enjoy trying new recipes. So if you have any cool recipes – feel free to send them my way!
What is something we would be surprised to know about you? 
I love to dance!! I used to be in a dance group during my time at York University and I miss it very much. One of my goals for 2018 is to join a dance group/class and I am thoroughly looking forward to it! I'm getting excited just thinking about it.
What do you love about working at Soulpepper?
I love that this company feels like a community. We are all interconnected and everyone here has been incredibly welcoming to me. Being a part of this department is all the more rewarding because we get the opportunity to work with youth and provide free programming. One of my favourite moments so far was during a youth workshop – when I saw some participants come into the building for the first time. They were in awe of the building and the opportunity and were keen to learn and experience a performance at this theatre. It reminded of my first time here. I am looking forward to the coming year – to work directly with my fellow coworkers, youth, and community organizations.