CALL FOR APPLICATIONS FROM THEATRE CREATORS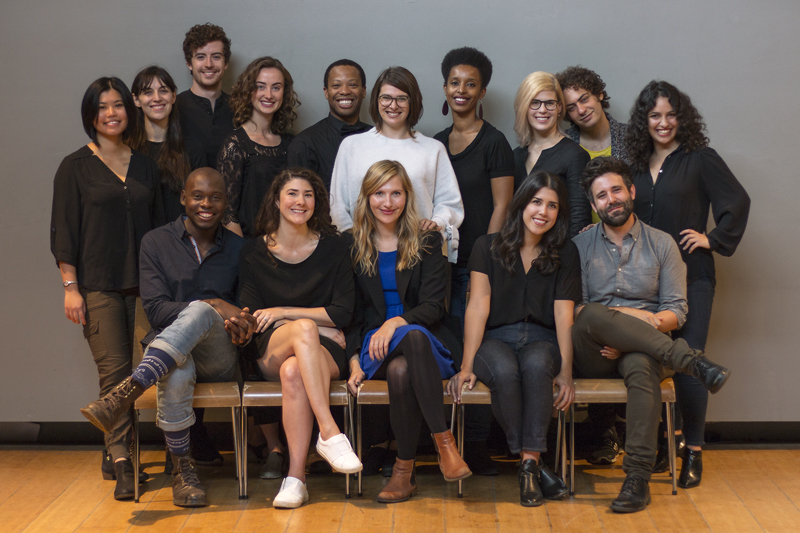 Soulpepper Academy, 2016
Soulpepper is now accepting submissions for the 6th Soulpepper Academy beginning in January 2021.
Following a year-long program review, as well as responding to current health guidelines, we are pleased to share that this edition of the Soulpepper Academy will be a five-month professional training program with a focus on future readiness and ensemble theatre-making with an inclusive lens. The Academy aims to nurture and support those theatrical voices that promise to shape the future of theatrical performance in Canada. Five (5) dynamic young artists will be selected and provided with a holistic approach to cross-disciplinary theatrical training. They will be working and learning alongside some of Canada's leading artists.
Soulpepper is an organization committed to pursuing radical inclusion. Artists of all experience levels are welcome to apply. We encourage applications from Indigenous, Black, Persons of Colour, Trans, and Disabled artists.
ABOUT THE ACADEMY
The Academy aims to develop highly skilled theatre artists who are equipped to make significant contributions in rehearsal halls and to the cultural landscape. We develop artistic leaders and believe that a supportive and immersive experience allows artists to move confidently into new territories. It is a key tenet of the Academy that Members are not training in order to imitate what has already been done or achieved. Rather the training aims to equip young artists to innovate, and make the theatre of the future. The Academy is not only a place of study, but also a site of research where they can pose the artistic questions relevant to their lives and realities.
The Academy will include classes, studios and workshops from some of Canada's leading theatre makers, including: d'bi.young anitafrika, Camellia Koo, Artistic Director Weyni Mengesha, Slaight Family Director of Music Mike Ross, Lorenzo Savoini and Djanet Sears.
WHY THE SOULPEPPER ACADEMY?
To accelerate the development of your original artistic voice.
To make a meaningful and necessary contribution to the national theatre ecology.
To make a meaningful contribution to the ongoing vitality of Soulpepper.
To develop an open, collaborative, and enriched approach to the process of making theatre.
What's the training?
Asks participants to rigorously examine and renew their approach to making theatre.
Proceeds on a dual track: enriching the thinking and practice of the individual artist, and develops strong, responsive, and skilled collaborators within an ensemble setting.
Is embedded within Soulpepper Theatre Company. Academy members will engage with Soulpepper productions, artists, and producers through mentorships and apprenticeships.
Will balance classroom training, research, and studio creation projects, adhering to all public health guidelines.
Who is this for?
Artists who are in the early stages of their career and between the ages of 21-35 at the start of the program.
Primarily, but not exclusively, for those who have recently completed a related degree/diploma program from a conservatory or university or have the equivalent professional experience.
Self identify as an emerging artist, while having a sense of their own voice, enjoy artistic collaboration, and willingness to learn, risk, experiment and grow.
Theatre artists who have interest and experience in creating work through a collaborative devised process. Unlike past programs, training will not be divided by specific streams, (ie. Acting, Directing), but rather focused on the ensemble creation process.
General Program Information
The Academy will begin full-time January 6, 2021 and conclude in May 2021. Academy participants each receive a living stipend of $850/ week, for the 20 weeks of the program, and will recieve and Artistic Residency with the company following graduation.
TERM ONE will include 10 weeks of training, including a focus on solo creation projects.
TERM TWO will include 10 weeks of conservatory practice, personal research practices, further developing and performing solo work, and growing the artistic voice as an ensemble through creation, development and performance of ensemble-led pieces.
The Academy training will take place in Toronto, Ontario. The aim is for training sessions to be in person, and will adhere to all Toronto public health guidelines. Training may move to online platforms as required.
ACADEMY ENSEMBLE
Successful candidates will be selected both for the promise shown around their individual artistic voice and practice, as well as for how that practice might contribute to a collaborative creation model. All Academy Members attend training sessions together and proceed through the program as an ensemble.
SELECTION PROCESS
All applications will be reviewed by the Academy leadership team. A short list of applicants will proceed to a round of online interviews and auditions with faculty. As a final step, applicants may be asked to participate in an in-person audition workshop. We thank everyone for their interest, however only applicants selected for consideration will be contacted. Unfortunately, we are not able to provide feedback on applications at this time.
Submissions must be received by 11:59PM on October 11th, 2020 to be considered.
PLEASE SUBMIT VIA PORTAL FORM:
CV: including your name, address, phone number, email, education, age, and association status (CAEA, ACTRA, ADC, PGC, etc.). [PDF Format]
Letter: a 500-800 word letter which describes how you came to the theatre, what your particular interest is in the theatre, and states what is it you want to pursue in your studies. Please include your name at the top of the page. [PDF Format]
Headshot: high resolution headshot. [JPEG Format]
Introductory Video: a link to a private online video, no longer than 1 minute, to creatively introduce yourself. This may involve sharing insights about where you're at in your artistic journey, what you hope to get out of the Academy, and/or what sort of artistic inquiries you are currently approaching. [Unlisted Link - See Video Instructions Tab]
HOW TO SUBMIT YOUR VIDEO INTRODUCTION
Sign into your YouTube Account or create one for free by visiting www.youtube.com
Upload your video and when given the option to upload the video as Public, Private or Unlisted, choose UNLISTED*
Send the link to your unlisted video when submitting your application
* UNLISTED means that only those with the link can view your video. An unlisted video will not appear in any of YouTube's public spaces (such as search results, your channel, or the browse page).
VIDEO TIPS
Make a plan and be prepared: Plan what you want to say and perform. Stay under the 1 minute time limit.
Make sure we can see and hear you clearly:
Speak clearly and audibly
Make sure we can see you (set up in a place where the light isn't behind you)
Be imaginative when presenting/performing your creative introduction
The equipment is not the important part: Use a phone, a camcorder, a webcam or anything that you have access to. (*NOTE: digital cameras are available for use at certain Toronto Public Library branches.)
---
If you require accommodation regarding the application process, or have any questions, please email: Academy@Soulpepper.ca
"Relaunching the Academy is one of the things I have been most passionate about since taking up my position at Soulpepper. As a graduate myself, I know the time I was given to experiment and take risks, while knowing I could be financially secure, allowed me to really grow and find my voice as a leader. In this time of uncertainty we have to invest in artists and the next generation to lead us into the future. We need spaces that allow these artists to feel empowered to reach for the impossible, to speak their truths, and help us find bold new ways to tell our stories. Ensemble building is a skill set that I feel we can uniquely teach at Soulpepper. We have an incredible faculty and I am so inspired by some of our new instructors that are coming onboard. I can't wait to meet the five new artists in the new year, teaching and learning from them will be crucial to our growth as a company."

- Weyni Mengesha, Artistic Director
When I first arrived in Canada, it was immediately clear to me how essential The Academy is to Soulpepper. Not only was Weyni a proud graduate, but so many of the company's leading artists had either benefitted from the training, or been members of the teaching faculty. It was clearly something that sat right at the heart of the company, and we knew from the start that we needed to bring it back. Over this past year, we have worked hard to bring together the financial support needed to take the program to its next iteration, and we are deeply thankful to the Canadian Arts Training Fund, RBC Emerging Artists Project, and Sylvia Soyka for their support. With a renewed focus on ensemble theatre making, and a commitment to equity, diversity and inclusion, we look forward to welcoming five theatre makers of the future to our company.

- Emma Stenning, Executive Director
I am so pleased to support the revival of the Soulpepper Academy. The Academy has been such an integral part of the Soulpepper fabric and truly a gift to the entire theatre community across Canada. Theatre goers and makers everywhere and, of course, especially at Soulpepper, have been benefitting from its successes for years. It is particularly fitting, and perhaps telling, that it is under the artistic leadership of Weyni Mengesha, herself a graduate of the programme, that the academy will return. It is also, in these singular times, a vote for and an investment in the future of live performance and a beacon of hope for all of us. Best wishes to everyone involved.

- Sylvia Soyka
How do we heal from individual and collective trauma? What does it mean to be a leader? Are storytellers leaders? And if so, what considerations are associated with leading? Where are we leading ourselves and the world to? What does it mean to self-recover? How do we decolonize our bodies? From whom do we learn how to love? Is it our responsibility to create new systems for emancipation as we tear down old oppressive frameworks? What are the responsibilities and accountabilities of being an arts practitioner? The meticulous investigation of these questions sits at the core of the Anitafrika Method. And my hope is that within this new Soulpepper Academy, practitioners will be continually invited to ask the questions: Who am I? How am I? What is my purpose? as we shape the new Canadian theatrical landscape.

- d'bi.young anitafrika, New Academy Faculty Member
The Soulpepper Academy is supported by RBC Emerging Artists Project, the Government of Canada through the Canada Arts Training Fund, and the generosity of Sylvia Soyka. Thank you!
Lead Sponsor
Academy Sponsors