The Ex-Boyfriend Yard Sale
In response to the ever-changing situation with provincial restrictions and increasing COVID-19 cases, The Ex-Boyfriend Yard Sale tickets are not currently available for purchase. Ticketholders will be contacted in the coming week with more information about the performances.
---
Can you turn sentimental value into cold, hard cash?
Haley McGee was on the phone with Visa, promising to pay off her bill by having a yard sale, when she realised the only things she could sell were gifts from her exes. Inspired by this call, The Ex-Boyfriend Yard Sale is a hilarious and daring show about calculating the cost of love… or what love costs us.
---
Community Conversations: The Cost of Love Podcast - LIVE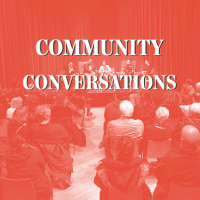 February 20, 2022
Be part of the live studio audience for The Cost of Love Podcast, where Haley McGee talks to a wide range of brainiacs to try to answer the question, "Is love worth the cost?"
Tickets for the performance on February 20 include this Community Conversation.
Community Conversations supported by TD Ready Commitment
One of the Best Shows of the Year. Pay Whatever it Takes to see the Soulpepper Remount

- Now Magazine
A Powerhouse Performance

- The Stage
SAFETY GUIDELINES


Soulpepper and the Young Centre for the Performing Arts have been awarded the Safe Travels Stamp from the World Travel and Tourism Council. This international symbol is designed to allow travellers to recognize companies around the world which have adopted health and hygiene safety measures that ensure patron experiences are safe.
Full Vaccination: In compliance with Mandatory Provincial Requirements, proof of full vaccination (two doses plus 14 days) will be required for attendance.
Face Masks: Patrons and staff will be required to wear masks at all times. Staff will have extra masks available for anyone who needs one.
Reduced Contact: As much as possible, interactions between staff and patrons will be contactless. This includes ticket scanning, box office transactions, and health screenings.
Physical Distancing: Patrons are encouraged to maintain a physical distance of two meters especially if they are not from the same household.
Sanitation: Hand sanitizing stations will be available. All high-touch surfaces will be sanitized regularly.
Please do not attend if you have a fever or are experiencing any symptoms of COVID-19, have tested positive for COVID-19 within 14 days of attending, or if you have had close contact with anyone suspected or confirmed of having COVID-19. The City of Toronto's current Public Health regulations must be followed.
---
---
Sponsors