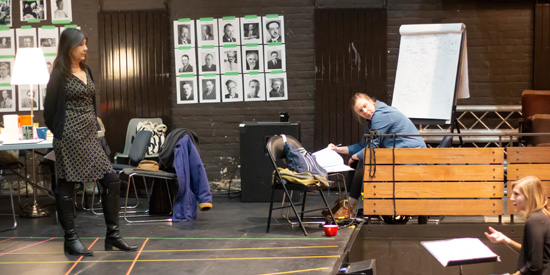 Artist Experience: Kyra Harper on stepping into Margrethe Bohr's shoes
Kyra Harper, who is playing the role of Margrethe Bohr in the upcoming production of Copenhagen by Michael Frayn, delves into who Margrethe truly was, and what it takes for her to step into her shoes. Read what Kyra has to say about who this intelligent and observant woman was. 
---
Who was Margrethe Bohr…
As I do my homework on Copenhagen, I attempt to demystify the physics and metaphors in Mr. Frayns often daunting script, but it's clear to me this is one I'll never fully comprehend and I have the uneasy realization that I have to be okay with that. This does not sit well in my actor brain, my instinct is to uncover the meaning behind every word on the page, how else can I possibly do justice to my role? But the paradox is that I can actually use the unknown to draw on in playing Margrethe Bohr, wife to Neils Bohr the famous Danish physicist. It becomes clear to me that Margrethe is a woman with great intelligence and a searching mind, and though she is not a physicist or mathematician she has an understanding of the principles and theories explained to her in 'plain language' that neither her husband or Werner Heisenberg possess. Margrethe's gift is going beyond and beneath the language of the equations to the application of the theoretical in the tangled and bittersweet relationship between Neil's and Werner, to hold a mirror to them in an effort to have them actually see their behaviours. And in so doing I think she acts as a conscience in the play, at least as a voice to be heard and considered. Her path is direct and rooted in the truth and consequences of humanistic behaviours.
Margrethe is a mother, wife, friend and shrewd observer of the world around her,and now as she  probes the depths of the unanswered question put to Heisenberg she fulfills her role as mother bear and protector of Neils, her great love and partner in all things.