Where the Blood Mixes
A place in the heart where a father and daughter meet.
Where the Blood Mixes takes us to the place where the rivers meet, to the heart of a family. After decades apart, Christine returns to her First Nations community to reconnect with her father. Her return provokes his memories of the Residential School system and together they must confront that legacy and its effect on their family. With beautiful heart and great humour, this is a celebration of resilience and the healing power of stories.
Winner of the Governor General's Award for Drama
---
Community Conversations: The Power Of Water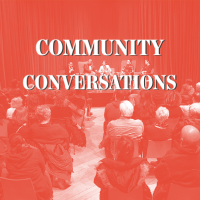 June 11, 2022
This conversation is a continuation of Soulpepper's environmental initiatives and builds upon the reflections of water that director Jani Lauzon has weaved through Where the Blood Mixes. The talk will touch upon the necessity of water, the climate crisis, and water teachings.
Tickets for the performance on June 11 include this Community Conversation.
Community Conversations supported by TD Ready Commitment
A pitch-perfect production.

- Toronto Star
SAFETY GUIDELINES


Soulpepper and the Young Centre for the Performing Arts have been awarded the Safe Travels Stamp from the World Travel and Tourism Council. This international symbol is designed to allow travellers to recognize companies around the world which have adopted health and hygiene safety measures that ensure patron experiences are safe.
Face Masks: Patrons and staff will be required to wear masks at all times.
Reduced Contact: As much as possible, interactions between staff and patrons will be contactless. This includes ticket scanning, box office transactions, and health screenings.
Physical Distancing: Patrons are encouraged to maintain a physical distance where possible.
Sanitation: Hand sanitizing stations will be available. All high-touch surfaces will be sanitized regularly.
Please do not attend if you have a fever or are experiencing any symptoms of COVID-19, have tested positive for COVID-19 within 14 days of attending, or if you have had close contact with anyone suspected or confirmed of having COVID-19. The City of Toronto's current Public Health regulations must be followed.
---
Audience Enrichment & Accessibility
Relaxed Performance - June 12 (1:30PM)
---
Sponsors