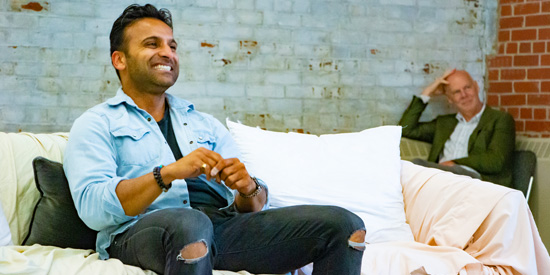 Artist Experience: Huse Madhavji on working with Oliver Dennis and Diego Matamoros in his Soulpepper debut
Huse Madhavji is making his Soulpepper debut in the Tony Award-winning sharp comedy 'Art' by Yasmina Reza, translated by Christopher Hampton. Not only is he making his debut here, he is stepping into a role alongside some of Soulpepper's most established and beloved actors, Founding Member Diego Matamoros and Resident Artist Oliver Dennis. Here is what Huse had to say about this exciting opportunity!
---
Have you ever been a part of a conversation with really inspiring and amazing people and then tried to contribute, only to quickly learn that it's probably best to keep quiet and just be grateful you're included? This is what it's like working with my castmates Diego Matamoros, Oliver Dennis and our director Philip Akin (also making his Soulpepper debut). These three, insanely brilliant craftsman bring so much talent and experience to the table, that our rehearsals also dub as a master class in theatre for me! 
Each day starts off with fun and insightful anecdotes from all of the previous productions they've all worked on, everything from the early days of Soulpepper to Stratford. Quotes from Shakespeare are all too common, as well as the casual name-dropping of legends that have graced stages in this country. It's not like I wasn't prepared for the level of talent I was going to work with. Philip directed me last fall for a production at The Factory Theatre, so I knew all about his genius. But Diego and Oliver, I can thank Instagram!  A month before my first day of rehearsal for 'Art', I posted a screenshot from the Soulpepper website on my IG page, a shameless plug that featured my name along with my two soon to be castmates Diego and Oliver. I was expecting the messages to be pouring in about how cool it is that I'll be taking a break from TV to do some theatre. Instead I got messages about how cool it is that I'll be sharing the stage with these actors. One close friend of mine sent me a private message saying, "You do realize, you'll be performing with theatre royalty!" And wow, was she right. You can just tell by the way they move and sound, they are masters at what they do, it's in how they ask questions, how they think and really, how they see the world. 
We rehearse 6 days a week working hard, doing our absolute best to tell this story and bring it to life. If you were a fly on wall watching us work, I'm confident what you'll find is a room full of curiosity, openness, imagination and a real sense of play! Well… that, and me pinching myself thinking, holy crap, I'm surrounded by theatre royalty, maybe I'll just keep quiet and listen.
---
Catch Huse making his Soulpepper debut in 'Art' August 9 to September 1.