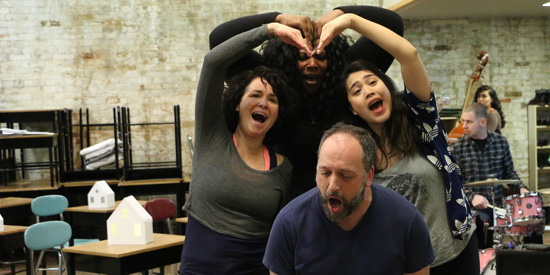 Artist Experience: Michelle Bouey on her Soulpepper Debut
Michelle Bouey is making her Soulpepper debut this month with the World Premiere musical Rose! "That is very exciting!" We wanted to get to know her and learn more about her experience working on this brand new show, and here is what she had to say about it.
---
Being a part of Rose has meant so much to me, in so many different ways. Having the opportunity to do a brand new show has meant a lot of "firsts" for me. I've had the chance to be a part of new works before, but only as far as the workshop stage, never at the point where we get to tell the story to a live audience.  The same goes for playing my cello. I've never really done it on this scale – I've had the chance in concerts and workshops, but playing the cello and acting in the same show is a whole new world for me. Another first is playing more than one character. Normally I undertake a specific role, but in Rose I am playing three! At first it did feel a little out of my comfort zone, but now I'm having a lot of fun with it; the experience has helped me to grow in so many ways as a performer.
I'm also very thankful to be working for a company that has inspired me ever since attending theatre school. It's not every day you get to be involved in a brand new musical, let alone one that is premiering in your own city.
From day one everyone has been so encouraging, supportive and kind. It's been awhile since I've felt this sort of uplifting spirit in a rehearsal room. We are fiercely led by a creative team that welcomes our ideas and also gives us time to play around, and to find out how everything fits right for us; all while emboldening laughter, focus and hard work. The rehearsal space and process feel safe and warm.
Though Rose challenges me on many levels it's been easy to enjoy the process of this wonderful project. We're surrounded by the best people and the most amazing material. The book and score sparkle in such a big way – I think it is going to leave people of all ages feeling curious, joyful, enchanted and truly touched. And, the fact that I get to learn from, and perform with, these seasoned actors and musicians to help make this beautiful story come to life is a dream come true. I can feel the excitement buzzing and building from everyone, and I can't wait for all walks of life to follow the journey of Rose!