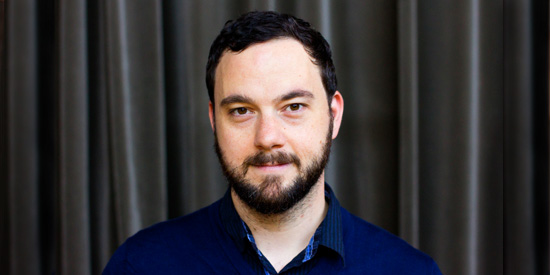 Artist Perspective: Gregory Prest, Words For My Nine Year Old Self
"We sing stories with a guitar with a pinecone or a shoe. Heck, everything's an instrument when the music's in you."
– Frank the Logger in Rose
If I told my 9-year-old self what happened today, I think he would be slightly confused. And jealous. It's the second day of rehearsals for Rose and the magical Mike Ross is teaching the cast the lyrics to the Act II big opening number "Here Goes Rose", penned by the hilarious Sarah Wilson. Here's a taste:
We're shakin' in our boots and our beards are twitchin'
And our knees are knockin' and our tongues are itchin'
What's gonna happen? What's gonna happen?
Oh, our hips are bumpin' and our feet are tappin'

Our palms are sweatin' and our breath is stinkin'
And our hair is frizzin' and our brains are thinkin'
What's gonna happen? What's gonna happen?
Oh, our nerves are shreddin' and our gums are flappin'
Now imagine this at the speed a dog chases a squirrel. The hilarity and utter joy of watching Mike teach this – the insane actions the actors are creating to memorize the sequence, picking up inspiring "tips" from their neighbours – the desperate dizzying look of success in their eyes when they get it right – the energy in the room from repeating this over and over up to speed – the peals of laughter – it is a room full of 9-year-olds. Pure joy. Kind, tender joy.
Sarah and Mike have created something very special. It is a wonderful thing (I'm learning as a director) when you can actually see the cast, some encountering the script and music for the first time, realize in the moment how beautiful and funny the material is. It's a special thing to see someone light up.
I can't wait to share this show with you.
– Gregory Prest, Director