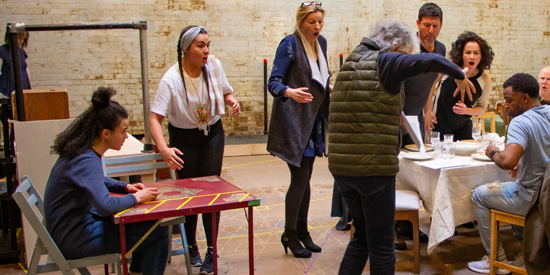 Artist Experience: Samantha Brown on the Significance of the Character Johnna in August: Osage County
Samantha Brown is making her Soulpepper Debut playing the role of Johnna Monevata in Tracy Letts' August: Osage County. While many often think of the plays epic layers of family drama and biting humour, Samantha shares another perspective on some of the layers Letts' writing touches on. Read on to see what Samantha has to share. 
---
When I was first approached with August: Osage County I had many questions, the most pressing was Why? Why August: Osage County? Letts uses an interesting approach to this play because the form is very traditional American Theatre. This play could be set in any time alluding to this idea of "America the Great" and "The American Dream" and all of these nuclear family ideals that, frankly, are unrealistic social constructs that no longer represent our generation.  As a result of trying to maintain these ideals a sickness festers and grows.
Diving in deeper to the metaphor, Letts has also introduced the presence of a Cheyenne Matriarch (Johnna), whose presence is always there, but avoided by the other characters unless needed. This alludes to Indigenous land rights and a commentary about building a dream on stolen land. This play exists on the surface, but is so fueled with rich commentary on the state of America and its treatment of Indigenous people. Letts carefully demonstrates cycles of trauma passed down through generations, and damage done by unhealthy coping mechanisms. Opposite to this is Johnna who is on her own healing journey, a woman who is decolonizing and reclaiming. It begs the question: what would North America be without first contact? Doubling down and avoiding the truth causes a dark poison that will erupt. The more we avoid the truth, or excuse genocide, claiming lack of involvement, the more it leads to an inherited generation benefiting from bloodshed.
In our production we have also cast a biracial couple with a multiracial daughter, which only thickens Letts' commentary on the treatment of people of colour in America.
So why August: Osage County in Canada? I offer the question knowing that our Canadian underbelly is just as, if not more, filled with a history that is ignored. A history that is ever-present and continues, due to a lack of acknowledgment and understanding. For that reason, I felt I had a responsibility to tell this story.  For me Johnna is an act of resilience; her body in its space is a political statement over a country that sought to exterminate her and her ancestors. Johnna is a strong message that we are still here.