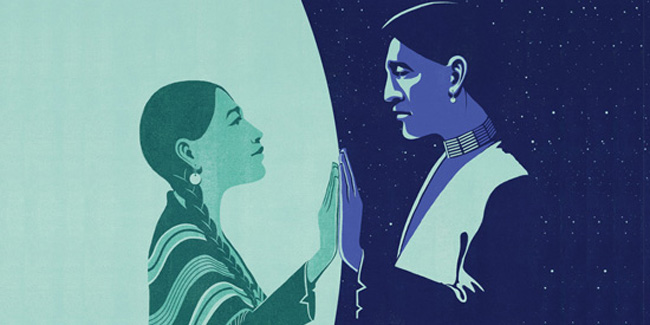 Director Q&A: Jani Lauzon, Almighty Voice and His Wife
Jani Lauzon, the director of Almighty Voice and His Wife by Daniel David Moses, originated the role of White Girl in the World Premiere production. She is back at it again, this time with more knowledge, more experiences, and a new role to step into – the director. We asked Jani a few questions to get a sense of what she is planning. Soulpepper is excited to be sharing this beautiful true story with audiences next month.
---
 What do you find most special about being able to direct Almight Voice and His Wife?
Ever since I was an actor in the world premiere I have wanted to continue my artistic relationship with this beautiful piece of writing. At first I was interested in a remount as an actor. Then when I past that possibility, due to my age, I set my sights on directing. That dream has been in my pocket since 2004 so here we go! One more item off my bucket list!
What excites you about Daniel David Moses' text?
Daniel is a poet. His text is full of imagery that allows the audience and those interpreting the play to fill that space with interpretation. He is economical with his words and shapes an amazing journey that incorporates the intersection of deep love with incredible, senseless loss.
Can you share anything about your approach or your vision for the piece?
We are going to have a blast in the rehearsal hall, that is for sure. It's a love story, first and foremost. But the story also allows us to use Vaudeville, as was intended in some cases, an opportunity to talk about oppression and racism through song and dance. We will start working on those Vaudeville numbers in the first week, because they will require that kind of precision in their execution.
Luckily I have a great creative team of Indigenous people to help with the song and dance. Marc Merilainen for sound and composition and Brian Solomon for choreography. This of course along with a talented, veteran cast that has the chops to pull it off. Michaela Washburn and James Dallas Smith….can't ask for anything more.
---
Almighty Voice and His Wife by Daniel David Moses begins October 11, 2019.